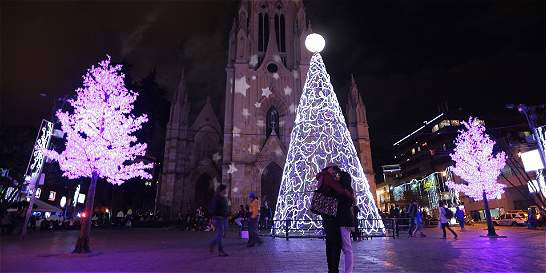 The city is all dolled-up for the holiday season with large-scale Christmas lights installations, enormous trees in public spaces and a myriad of other attractions. Ángela Forero-Aponte speaks to the director of the city's department of tourism, Adriana Gutiérrez, who gave a foretaste of what both bogotanos and visitors can experience during the Christmas festivities in the capital this year.
---
The Bogotá Post: How many places will there be this year where you can see Christmas lights in the capital? When will they be unveiled and what will be the theme?
Adriana Gutiérrez: We'll have 34 different spots, four corridors along the north, west, and other city sectors, and along downtown Bogotá of course, Plaza de Bolívar included. The lighting will officially be unveiled on Sunday, December 4 at Parque El Tunal, which will have the tallest Christmas tree in Colombia – 50 metres – and a show of fireworks and artists.
BP: What else will be new this year?
AG: Well, first of all, we'll have a great attraction, which is the Festival of Lights of Lyon. These festivities normally take place in France, and we are celebrating it this year on the occasion of the [año Colombia – Francia 2017]. Bogotá will be the host city of the opening event of these festivities with lights (mainly consisting of a series of cutting-edge lighting mappings) and large-format music, which has never been seen before in the city. The opening event will take place at Plaza de Bolívar on December 16. I also have to highlight the importance of the use of renewable and reusable energies during the festivities.
Plus, we'll have a floating tree in Parque El Lago as well as interactive postcards in different spots throughout the city so that people can take pictures with 3D effects. And a pedal-powered tree with stationary bicycles so that people who visit this attraction can pedal their way into lighting this tree.
BP: What's the importance of the Christmas lights for tourism in Bogotá?
AG: It is not only that the Christmas lights are important, it's also that during this time of year there are many visitors to our city. It is very clear to us that Christmas decorations are an attraction, and so they are a tourism product. It is the convergence of not only the lights, but also of all the cultural activities going on in the city at that time: from the novenas through to music and fireworks shows. This is also an opportunity to boost tourism in general since the occupancy rate and all other tourism services offered by the city skyrocket.
BP: Which important recommendations would you give bogotanos and visitors during the Christmas holidays when it comes to watching the lights?
AG: Concerning public space, it is very important to note that the lighting decorations should not be manipulated, not to climb over the Bogotá ads, avoid the use of flammable materials near the decorations and not make any attempts at fixing any lights that are not working. We need to understand, as bogotanos, that this is a time for joy, this is a celebration to integrate citizens and obviously, the world. This is the message Mayor Peñalosa wants to transmit this year through the concept of collaborative work.
BP: We've read that Bogotá is now included in the Sound Walkrs app, which allows people to take guided audio walks through the city's landmarks and history. Will this app be integrated into the holiday route map of Bogotá?
AG: Yes, we've been promoting this app together with collaborators who have been developing it and motivating others to use it. We are working on spreading out the Christmas programming, but we are also going to have a special app for the Christmas route map together with Canal Capital, some brochures and all of the information on the myriad of activities taking place in our city during the holidays.
---