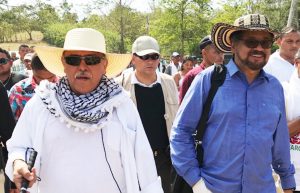 A delegation from the UK has urged Colombian authorities to guarantee imprisoned FARC leader Jesús Santrich's rights to a fair hearing and has asked the British government to support the ongoing peace process in the country. The delegation recently visited Santrich–who has since protested his incarceration with hunger strikes–and they were appalled by the conditions the FARC leader was placed in.
In a letter published on The Guardian, the delegation stated that they are "concerned at the recent admission by Colombia's attorney general that his office does not have evidence against the FARC peace negotiator and congressman-elect Jesús Santrich." 
The group of 30 members–which included members of Parliament from the Labour Party as well as heads of trade unions and lawyers–also criticised the implementation of the peace accord, stating that change was slow and still failing to reach many communities in former conflict zones. "Congressional changes to the truth and justice chapter could allow some of the conflict's worst human rights abusers to evade justice," the delegation added, registering their alarm that over 400 social leaders had been killed since the signing of the peace accord.
Santrich was one of the chief negotiators in the dialogues leading up to the peace agreement of 2016 and had been due to take one of the 10 congressional seats guaranteed to the FARC political party as part of the peace agreement.
However, he was imprisoned on April 9 this year on allegations of narcotrafficking; an activity that the FARC had conducted as a means of financing themselves during the conflict with the Colombian government. The allegations referred to actions taken after the peace accord and meant that Santrich faced possible extradition to the US for allegedly conspiring to export 10 tonnes of cocaine.
One of the earlier jurisdictional issues posed by the arrest was whether the question of when the alleged activities took place would be heard first by the Special Tribunal for Peace (JEP) before being referred on to the regular justice system. On October 25 the JEP ruled that it was appropriate for them to consider the evidence against Santrich and that the Prosecutor's Office had 40 days in which to present it.
During the elections this year, Colombian President Iván Duque campaigned on a tougher stance towards the peace agreement, frequently promising that members of the FARC would not be exempted from punishment for their actions.
That the case of Jesús Santrich has garnered international attention, including that of the UK delegation of MPs and trade union leaders, is not unusual. The case was widely reported by international media outlets and has been symbolic of a wider concern that the peace process was on the wrong track. This was further seen to be a perception within the country too as a recent Invamer poll showed that the majority of respondents (around 67 percent) believed that the peace process was going in the wrong direction.