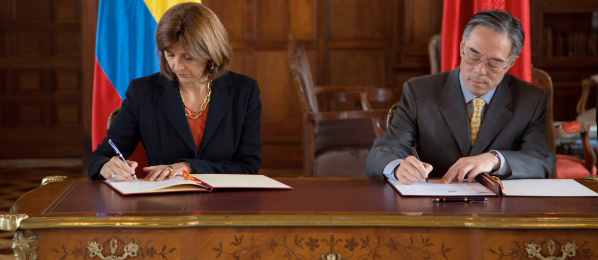 Two nations sign trade, investment deals as China pledges $8m USD to help rebuild post-conflict Colombia
---
Chinese Premier Li Keqiang arrived in Bogota last week as part of an official state visit aimed at boosting economic ties between the two countries.
Related: Colombia in the Korean war
Colombia is the official's second stop in a four-nation tour of the continent. Previously he met with business and government leaders in Brazil.
Li is the highest ranking Chinese leader to come to Colombia in decades.
The two days of meetings on May 21-22 also saw Foreign Minister Maria Angela Holguin meet her Chinese counterpart, Wang Yi, along with meetings between other cabinet-level officials.
A total of eight bilateral agreements were signed between Colombia and China. They will strengthen trade and investment in infrastructure and construction, agriculture, finance, education, culture and tourism, according to reports.
After holding a private meeting, the Chinese leader and President Juan Manuel Santos gave a joint press conference, where Li highlighted the important role that Colombia plays in spreading the Spanish language.
"We are going to send more Chinese students to Colombia because here is where the purest Spanish is spoken. We also welcome more Colombian teachers and students to go to China to teach the language," Li said.
Underscoring the importance of educational exchange, he said that the Chinese government would offer 200 scholarships to Colombians to go to study in Chinese universities.
President Santos, in turn, expressed his gratitude to China for its support of the peace process. China has pledged $8 million USD to help with two development projects in a post-conflict Colombia, according to reports.
---
By Martha Ferro