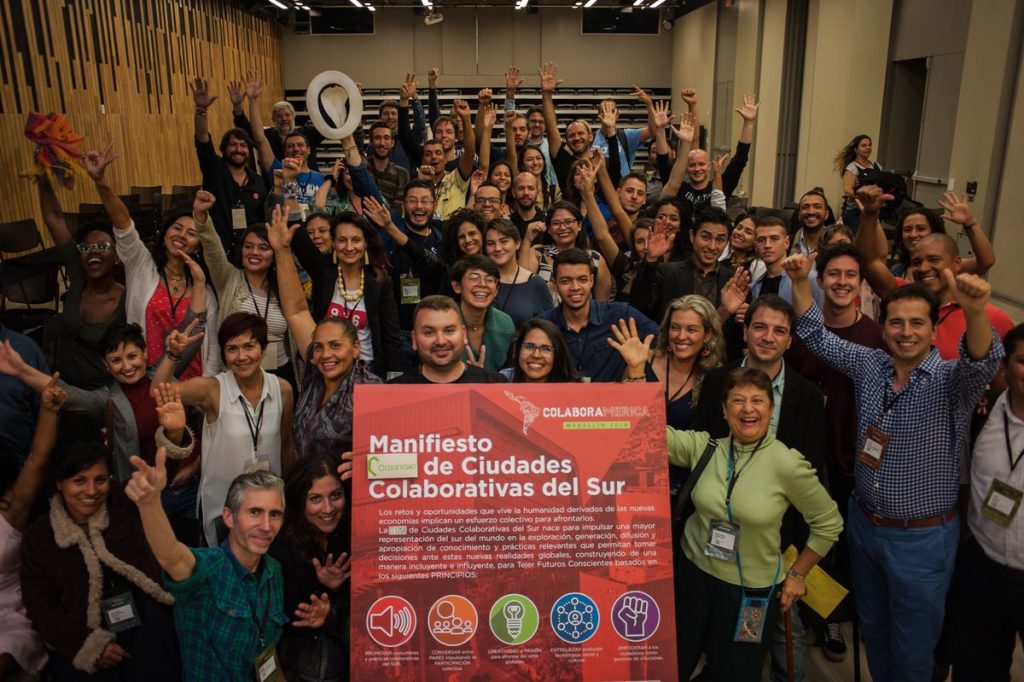 Last week in Medellín's Parque Explora nearly 700 people from Latin America and around the world waded through clusters of children on class trips to participate in Colombia's first Ouishare conference, ColaborAmérica Medellin.
Programming for the conference, which lasted from November 21st to the 23rd, emphasized collaboration—between civilians, local government and private enterprises, and countries in the Americas—education, the future of work, ethical technology, and the circular economy. Also built into the schedule was time for invited panelists to discuss collaborative practices and host workshops.
Following the hyperlocal conference Innovationland which the city hosted a week earlier, the ColaborAmérica conference was organized by Ouishare, an international network of "connectors" who specialize in hosting events related to innovation and the sharing economy. ColaborAmérica Medellin 2018 is the second Ouishare event to be hosted in Latin America, the first being held in Rio de Janeiro earlier this month.
The team behind the conference chose Medellín as a host city based on its track record with innovative urban planning initiatives like the metrocable and for its potential to be the hub for Spanish-speaking countries in Latin America, Juan Pablo Ortega, the head of ColaborAmierca Medellín director told The Bogotá Post.
"The vision is that Medellín would be the capital of the collaborative economy in Latin America," Ortega said. "This doesn't mean that Medellín is the leader of everybody else. It means that the city has leverage to make sure that the collaborative economy really generates a positive impact in Latin America."
Ortega was overall pleased with the outcome of the event. Instead of narrowing down on one or two topics, Ortega's goal was to "put all of the themes on the table" and generate collaborative communities around them. With as many as fourteen breakout sessions and workshops going on simultaneously, attendees could personalize a schedule that fit their areas of interest.
In one workshop called "Constructing Collaborative Models," Gustavo Palacios, CEO and co-founder of Sharecollab and Ouishare connector, led several small groups in an exercise to identify and solve urban planning problems that were unique to Medellín. For Luis Buitrago, who is in the midst of co-founding a virtual collaborative platform called Zona Torrida, the value of the workshop was less in reaching a solution, but connecting with people who already had their own projects.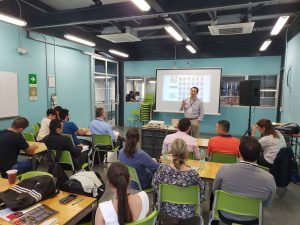 "It seems to me that the greatest value of ColaborAmérica is bringing people together who are thinking about collaboration in this way, people from Medellín and all over Colombia who are taking part in interesting projects," Buitrago said.
Despite the tailored breakout sessions and distinguished guest lecturers, one recurring question grounded the three day event: How does the sharing economy translate to a Colombian or Latin American context?
"The reference points are always from other countries like Amsterdam, which have had a formalized sharing economy for a long time," Buitrago said, citing the Dutch panelist Pieter van de Glind, who co-founded the Sharing Cities Alliance. In his presentation about sharing cities, van de Glind mentioned cities like Barcelona, Toronto, New York, and Dallas, but did not mention any from Latin America nor from the continent of Africa. To demonstrate the ingenuity of these cities, he cited examples of startups like Amsterdam's Peerby, a free app which facilitates free transactions between borrowers and lenders, and the French carpooling startup BlaBlaCar.
This was a point of criticism from Buitrago, saying that, "the ideas and energy around [Medellín] already have a disposition to collaborate and work together—the "paisa way. It's not necessarily within the context of the 'sharing economy' but it's not a new thing. It's already happening here."
While Peerby and BlaBlaCar have yet to make their Latin American debut, there are plenty of collaboration models in the region, some of which, like Rappi, have simply been re-purposed and made digital.
"Historically, Latin America has been a collaborative society in many aspects and so we also have knowledge that can serve the betterment of society," the director of ColaborAmérica said. "We don't believe in the model where every idea is created in the northern part of the world. We have also developed our own knowledge."
Another underlying topic of discussion was inequality within the collaborative economy sector. The challenge for digital platforms like Rappi, says Ortega, more than implementing a business model, is implementing a collaborative model that is actually fair.
"Many people are gaining a little so that a few gain a lot," Ortega said. "The question is how to make sure that conditions are just for everyone so that more people can gain more."