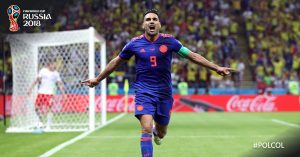 Colombia live to fight another day while Poland have spectacularly been tumbled out of the World Cup. On a day when goals rained down in earlier games–England scored six goals to knock Panama out and the Senegal/Japan game saw two goals a piece–Colombia followed suit by scoring three goals against an underperforming Poland.
An early Yerry Mina header in the 40th minute released much of the tension that had been building in Colombia following their nightmare 2-1 loss to Japan, losing their defender Carlos Sanchez Moreno to a red card in the process.
But if Colombia missed Sanchez during this game, they didn't really show it with Wílmar Barrios ably partnering with Abel Aguilar to keep Poland from any dangerous scoring opportunities. In the second half Colombia were able to turn on the screws by frustrating Poland's leading striker Robert Lewandowski who was fed few genuine chances and found little support for his exceptional talent. His expression at the end of the game mirrored that of Lionel Messi's when Argentina similarly went down to Croatia on Thursday.
Lewandowski's teammate at Bayern Munich, James Rodriguez, on the other hand had an outstanding game having been playmaker to two of the goals. After having crossed across goal for Yery Mina to collect his fourth goal, Rodriguez also added the final nail to Poland's coffin when he found Juan Cuadrado to his right. Cuadrado obliged and gave Colombia their third goal, sending Poland– who were ranked 8th in the world– out of the tournament.
But the goal that everyone in Colombia will be talking about will be the one scored by the man who has scored the most for Colombia and yet never in a World Cup. Juan Fernando Quintero sliced his way through the Polish defence to find Radamel Falcao with a clean break and a cleaner shot at goal. It was a goal that brought all of the players together in an outpouring of emotion for Falcao given the amount he has given to the team without having had the opportunity on football's grandest stage. It was the goal for which the Polish fans could see the writing on the wall that this wasn't to be their tournament.  
Colombia will now face Senegal on Thursday at 9am Colombian time. Senegal can survive a draw, as too can Japan. Colombia would make things a lot easier on themselves if they were to pull off another win like today. But after a 3-0 rout over Poland, Colombia are starting to make winning look easy.