An impressive Colombia team faces England in a World Cup final at daft o'clock in the morning. Set your alarm for this one.
Colombia's fairytale run in the FIFA Women's World Cup 2023 sees them pitted against European Champions England on Saturday morning. It's likely to be a tense and close match, with the coaches Nelson Abadía and Sara Weigman searching for any tactical advantage. England are the bookies favourites, but that will count for little after kick off.
Colombia are underdogs on paper, but are coming in on a run of good form. Apart from a loss against Morocco where they bossed the game but couldn't unlock the well-drilled North African defence, they have handily beaten everyone so far. That includes world number two Germany, who were eliminated after losing to the cafeteras. Jamaica were held at arms length in a last-16 clash that was more comfortable than a 1-0 scoreline suggests.
Experienced striker and record goalscorer Catalina Usme settled that last match with a well taken strike and she's supported in attack by the intelligent Mayra Ramírez and the prodigious young talent of Linda Caicedo. Those three will ask plenty of questions of England's back three, while composed captain Daniela Montoya and Lorena Bedoya will keep things ticking over in midfield.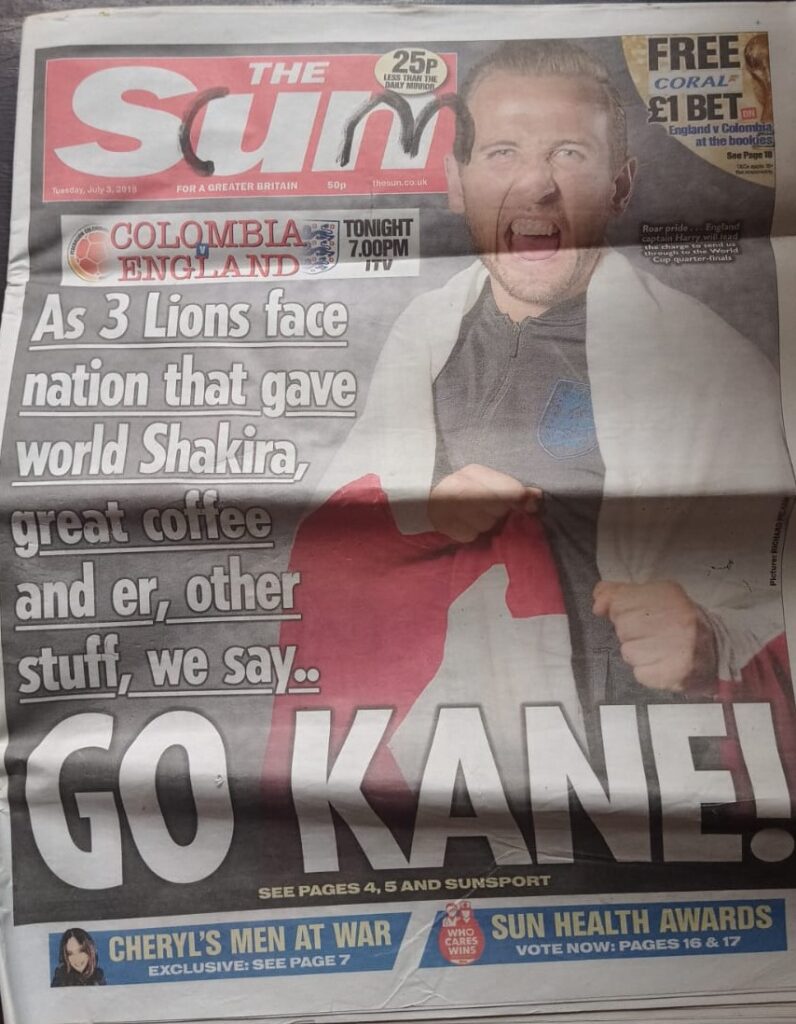 While there's no real history between the Cafeteras and the Lionesses, many Colombian fans will see this as a chance to avenge the 2018 loss against Gareth Southgate's men's team one round earlier in Russia. That limp defeat was an ugly match given extra bite by English tabloid rag the S*n printing a cocaine reference on their front page.
Highly-rated England were taken all the way to pens by Nigeria, albeit reduced to ten women after a needless foul by Lauren James, now banned for this match and the next, should they get there. Apart from hammering China, they've struggled to get out of 1st gear, sneaking past Denmark and Haiti 1-0 apiece.
Technically excellent, hard-working and with plenty of tactical nous, there is much to recommend Colombia as a team. They're also highly motivated to fight for the shirt but can be somewhat wasteful in front of goal. Manuela Vanegas' winner against the Germans was an example of all this coming together as she burst into space to get on the end of a beautiful corner and absolutely planted a bullet header past the keeper.
Probably the key area will be Colombia's ability to get down the right of England's defence, as wonderkid Linda Caicedo will be relishing the chance to get one-on-one with Jess Carter with Bronze likely to stay high up the pitch. Caicedo is more than capable of winning those one-on-ones and creating space for the likes of Usme to exploit.
Colombia are happy to put themselves about a bit and let the opposition know they're there. That intensity famously spooked a limp Ireland team in the last warmup match and England found the physical nature of the Nigerians hard to deal with last time out. If Colombia can get in their heads and disrupt their rhythm, they are well in with a chance.
The Colombian support Down Under has gathered support from various corners, with neutrals rallying behind the South Americans. With locals always happy to goad the poms and England being widely seen as arrogant, expect a partisan atmosphere inside Sydney's imaginatively named Stadium Australia.
There's a vast contrast between the resources available to each side, too. While the English game has its problems, it's relatively well-funded and supported. There's a fully fledged league system within the country, good international links and the players are well treated in general.
However, the football association of Colombia, Dimayor, is widely seen as corrupt, incompetent and sexist. Earlier in the tournament, they were widely criticised for releasing a video giving the players computers and patting them on the head like little girls. Disgusting stuff, especially in 2023 and especially with them exceeding expectations so spectacularly.
More worryingly, there has been a long list of complaints within the women's game locally. Photos of players sleeping in airports because teams wouldn't stump up for hotels produced outrage, but most critically there will be no clausura tournament this year, as had been promised. This leaves local players kicking their heels until next year for competitive matches.
Then there is the treatment of players who speak out – most notably Yoreli Rincón, but also Vanessa Córdoba and Natalia Gaitan. Rincón has alleged that she is blacklisted and has had no contact from Abadía, although she stresses that she is cheering on the team as always.
Whatever happens on Saturday morning, this will have been a successful campaign for the cafeteras and one that has won hearts and minds in the battle for further and fairer funding. Hopefully this can be parlayed into more support for the women's game in Colombia. After all, the money is always there for the salaries of the Dimayor fat cats.
Colombia-England, Stadium Australia, Sydney
12/08/2023 5:30am KO (Colombian time)