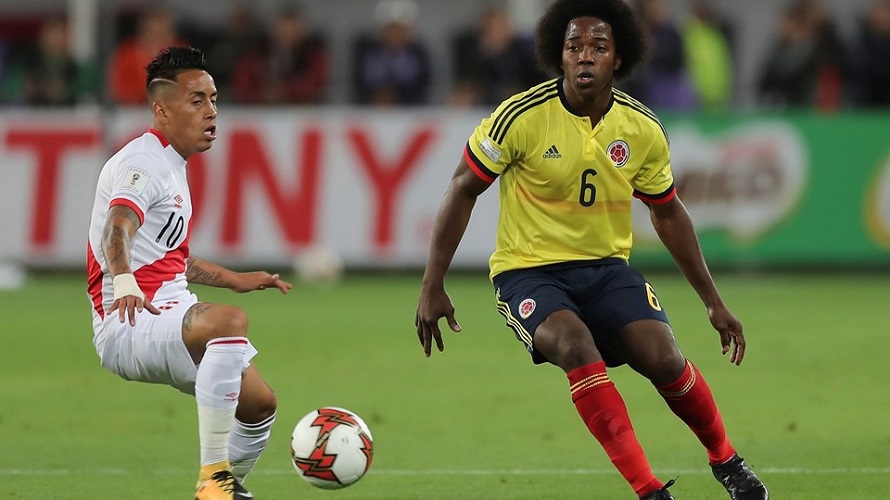 In Lima, Colombia qualifies for World Cup 2018. A 1-1 draw versus Peru with a goal from James Rodríguez proved enough to qualify for Russia 2018.
---
The tension mounted in the last game when five teams were battling for two spots in Russia and another place in the play-offs versus New Zealand and chances immediately rose when Argentina went behind in Quito against Ecuador, but Messi turned it around, avoiding an Argentinian disgrace. Colombia on the other hand knew what to do in Lima, a victory was enough to guarantee qualification.
In the first half Colombia was slightly better, but weak headers from Radamel Falcao and surprise starter Duván Zapata didn't threaten Peru goalkeeper Pedro Gallese. In defence Peru's experienced striker Paolo Guerrero caused some difficult moment for centre backs Davinson Sánchez and Oscar Murillo, but David Ospina wasn't properly challenged.
Related: Colombia's history at the World Cup
Cheers rose up from the Colombian crowd when Brazil scored twice versus Chile, but the country became ecstatic when James Rodríguez put los cafeteros in the lead in minute 56. Zapata won the header on a long ball from Ospina putting it through to Falcao. The striker had difficulties controlling the ball but James Rodríguez stepped in and put it away in the bottom.
Colombia looked comfortable, but Peru equalised with 15 minutes on the clock. An indirect free-kick from Paolo Guerrero went straight in goal, but it looked like it brushed James and because Ospina had a hand behind it, the goal counted.
On the other pitches Venezuela gave Colombia a hand scoring against Paraguay and Brazil knocked out Chile in the second half leaving Colombia in fourth place. At 89 minutes, the Peruvian players realised that they would be in the play-offs with the 1-1 draw. The last four minutes either team refused to attack, happy with the result, leaving an eruption of ecstasy in Colombia as they reached their second qualification in a row.
Related: Colombia vs Peru preview
Colombia had the ideal chance to qualify in Barranquilla, when they were leading against Paraguay in the final minutes of the game. Some sloppy defending meant that Colombia lived five days of tension extra, but with this result Colombia have booked their ticket to Russia.
---