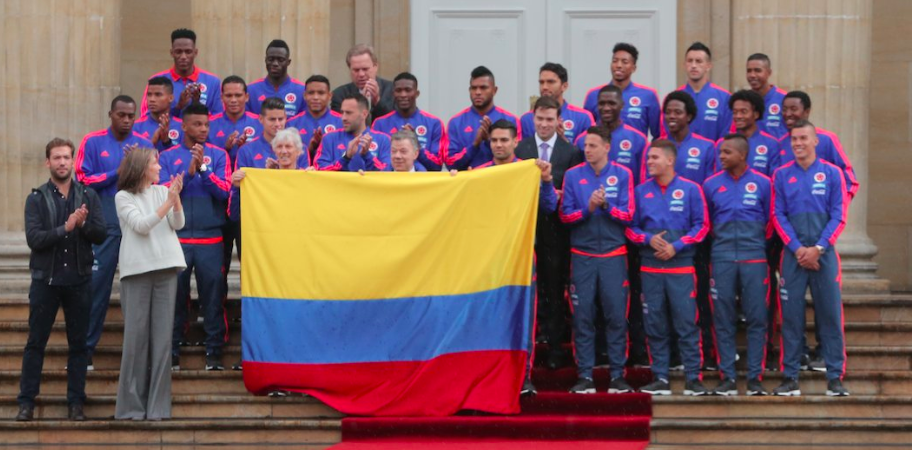 Though Colombia's Football Federation (FCF) has yet to officially announce its final 23-man roster, we got a clear look at who's going to Russia after the team took part in a presidential send-off Thursday.
During a ceremony at Bogotá's Casa de Nariño, President Juan Manuel Santos gave coach José Pekerman the Order of Boyacá peacetime decoration as the head man was surrounded by his 24 players coming off a practice in the capital.
Pekerman will still have to cut down on one man, as teams are allowed an official roster of 23 at the World Cup. Colombia's final roster spot comes down to goalkeepers Iván Arboleda and José Fernando Cuadrado, who are currently trying to impress "El Profe" in training to grant them a ticket to Russia.
Here is the rest of Colombia's final roster headed toward the 2018 World Cup:
Goalkeepers: David Ospina (Arsenal), Camilo Vargas (Deportivo Cali), Iván Arboleda (Banfield), José Fernando Cuadrado (Once Caldas)
Defenders: Davinson Sánchez (Tottenham), Yerry Mina (Barcelona), Cristián Zapata (AC Milan), Santiago Arias (PSV), Frank Fabra (Boca Juniors), Óscar Murillo (Pachuca), Johan Mojica (Girona)
Midfielders: Carlos Sánchez (Espanyol), Jefferson Lerma (Levante), James Rodríguez (Bayern Múnich), Abel Aguilar (Deportivo Cali), Mateus Uribe (América), Juan Fernando Quintero (River Plate), Juan Guillermo Cuadrado (Juventus), Wílmar Barrios (Boca Juniors)
Forwards: Radamel Falcao (Monaco), Carlos Bacca (Villareal), Luís Muriel (Sevilla), Miguel Borja (Palmeiras), José Izquierdo (Brighton Hove & Albion)
Esta tarde la Selección Colombia fue homenajeada en la Casa de Nariño, en un evento en el que el equipo recibió el Pabellón Nacional de parte del presidente de la República Juan Manuel Santos. 🇨🇴 pic.twitter.com/InV6ZDhtOU

— Selección Colombia (@FCFSeleccionCol) May 24, 2018
Some notable omissions from the preliminary roster released last week include midfielder Edwin Cardona, Duván Zapata, and Yimmi Chara.
Zapata, who plays in Italy's Serie A, recently came down with a badly timed injury and had to be passed over for healthier players. For Chara's part, the diminutive forward should be commended for helping Colombia in qualifying play, but there are clearly more talented alternatives at Pekerman's disposal.
Cardona's absence, however, has been the most eye-opening. Though the Boca Juniors player was suspended for five FIFA matches following a racist gesture made towards a South Korean player at the end of November friendly, it was ruled upon at the time that the suspension would not apply for any World Cup games. The bulky midfielder was often fixtured as a starter in Pekerman's system, where he shined at times, but Pekerman clearly didn't want to risk bringing a hot-headed player who brings too much excess baggage.
On top of the outwardly racist gesture, Cardona has been accused of physically assaulting women he hired for a party in Argentina before threatening them with a knife. The accusations, also involving club and country teammate Wílmar Barrios, have been denied by both players.
Because of the very temporary nature of international teams, where players are only together for weeks at a time before going back full-time to their clubs, chemistry is at a premium. The balance of risk to reward with Cardona just doesn't add up when there are other talented players that are ready to take his spot in the starting lineup.
Midfield mate Carlos Sánchez was asked by reporters after Thursday's training session about Cardona missing the World Cup.
"It's difficult because I wouldn't want to be in his shoes," the veteran player said. "He's an important player for us, without taking away from any of the players that are here. But these are the decisions that a coach makes and a player can't worry too much."
Expect Pekerman's normal starting lineup to look almost exactly like what was put out on the field in Paris against France in March's 3-2 victory. The only change will likely be Juventus' Juan Cuadrado, who led the last World Cup in assists, in place of Mateus Uribe.
That would give us a starting XI that looks like this:
  Ospina
Arias – Mina – D Sánchez – Fabra
Aguilar – C. Sánchez
Cuadrado – James – Muriel
Falcao
Pekerman is afforded some interesting opportunities with his subs, as well. He can have the younger Wílmar Barrios provide fresh legs for the defensive midfield duo of Aguilar and Sánchez. Veteran Cristián Zapata is also a candidate to start at least a few games if the inexperience of the 23-year-old Mina or 21-year-old Sánchez starts to show on the backline.
We'll have a more concrete idea of Pekerman's vision when Colombia kicks off next Friday's pre-World Cup friendly against Egypt and its superstar Mohamed Salah, who is sure to test Colombia's strong defense.