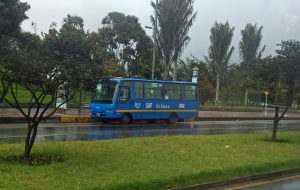 Residents of Ciudad Bolivar, in southwest Bogota, woke up to a surprise yesterday morning: there were no buses running.

Bus routes were suspended due to an alleged breach of contract by operator Suma S.A.S. The concession holder failed to provide proof it renewed the required insurance policies that safeguard the system against breaches of contract, severe accidents, and other liabilities.
Early on Wednesday, Suma renewed their insurance and deliver the paperwork to Transmilenio. Bus routes resumed Thursday morning.
Over 150,000 people were directly affected by the decision. Exactly 408 buses covering 25 routes were cut, causing chaos across the 32,000-acre locality that is home to 2 million Bogotanos.
According to Transmilenio general manager Alejandra Rojas, the suspension had to stay in effect until the company complies with contractual, legal and civil duties.
Suma covers 7.2 percent of SITP bus routes in the capital. The situation placed additional burden on the already overcrowded transportation system.
SITP's contingency plan was to run 13 provisional routes operated by other system operators until the situation was resolved, on top of other 12 routes that continue to function normally in the locality. On top of the blue SITP bus routes, Suma operates 12 green-colored Transmilenio feeder routes, and for these other operators to pick up the slack.
#TMahora Trabajamos para superar novedad en Ciudad Bolívar y suplir la necesidad de trans porte de nuestros Usuarios en Portal Tunal pic.twitter.com/givFio0fw3

— TransMilenio (@TransMilenio) 11 de octubre de 2017
Transmilenio dealt with the situation, sending extra buses and temporary routes to Ciudad Bolivar.
The decision drew criticism from public transportation users and public figures, directed toward both the authorities and Suma. The operator was notified to suspend services in the midnight hours prior to the suspension of service, during the half-time break of a major soccer match that drew most of the country's attention.
House of Representatives member Alirio Uribe dubbed the transportation authorities' decision a "criminal act" as it left hundreds of residents in the area with no means of transportation. He also pointed fingers at the city's mayor Enrique Peñalosa for allegedly supporting the decision.
As authorities claim they made their decision based on Suma's failure to provide proof of insurance policy renewal, the company insisted had coverage up to 2018. Any failure to renew, it argues, would obey to rife insolvency across the SITP system.
Información oficial de la Organización Suma S.A.S pic.twitter.com/i2BUVCIYRT

— Organización SUMAsas (@SUMAndo_SITP) 11 de octubre de 2017
A Suma press release on the suspension of service.
In an interview with W Radio, Eduardo Tovar, Suma manager, later insisted that insurance companies have excessively high asset requirements for the required policy, making it difficult for financially precarious Suma to purchase it on time.
He proceeded to state the company is otherwise complying with all contractual requirements, suggesting that the authorities should allow modifications to the legally-binding concession agreement to avoid harming the livelihoods of hundreds of thousands of users.
Bogota's SITP bus system
There are nine bus operators in Bogota:
Two operators, Coobus and Egobus, are being liquidated as they have been unable to fulfill their assigned routes to date, in a long-awaited decision by the Superintendence of Finance last month.
The remaining seven are Este Es Mi Bus, G Móvil, Consorcio Express, Tranzit, Masivo Capital, Etib, and Suma. Together they transport 1.7 million passengers per day.
These operators have a combined debt of exceeding 1 billion USD.
Masivo Capital and Tranzit are undergoing internal restructuring. Este es Mi Bus has not taken any action, despite having racked up debt that has cost it over 50 percent of its assets. Etib and G Movil have surpassed 90% of their debt capacity, all according to La Republica.
Jose Stalin Rojas director of the Mobility Observatory of the National University of Colombia, told La Republica these companies are facing two main issues. "First, the implementation of a poorly planned model. Second, there are not enough resources to reinvest in these companies, in order to curb the progressive decay of the system. In other words, income is not enough to cover expenses."
The suspension of Suma threatened the jobs of 1850 employees, as well as the operations of three more concession holders with insurance policies that expire in the upcoming weeks and have not been renewed to date.
Omar Elorfaly contributed to this article.