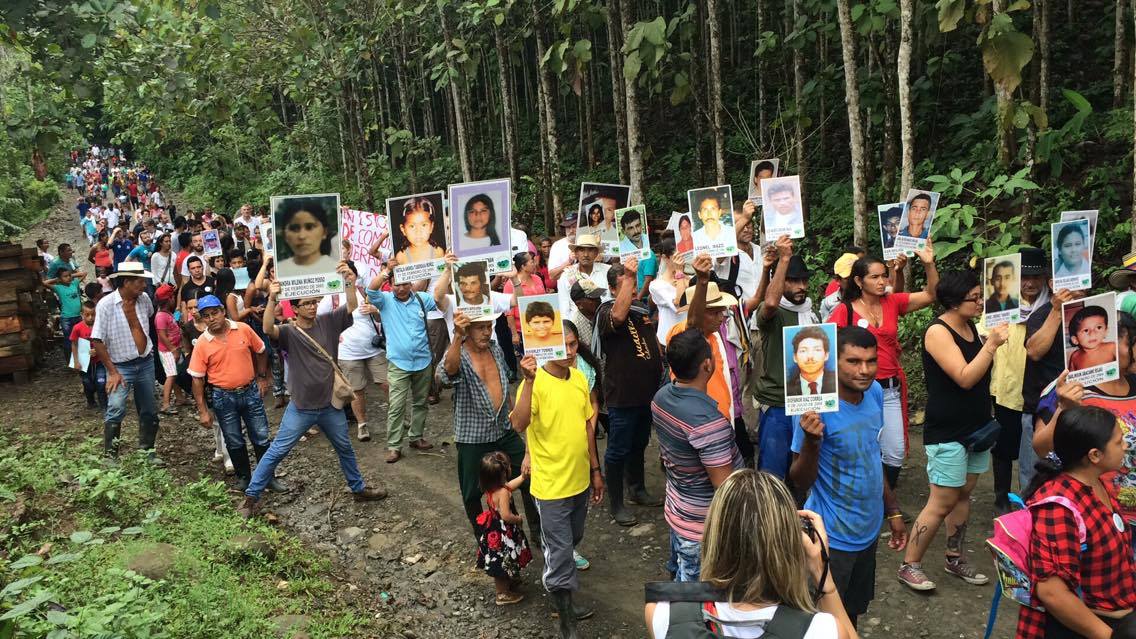 Leaders in the Comunidad de Paz de San José de Apartadó, in one of Colombia's deadliest conflict zones, tell Penelope Glass they are facing more, not less, violence.
---
"The government keeps wanting to bury everything that's been happening here," Doña Celia* says into the microphone, her grey braids framing a wizened face. She is addressing a group of about 40 of her fellow campesinos in the cramped community centre of the small but internationally recognised village known as the Comunidad de Paz de San José de Apartadó (Peace Community), located in northern Colombia. "They are teaching the children that there has been no war, that the people have not suffered." She pauses. Families sit in plastic chairs, listening attentively as the daylight fades. "Well, that's a lie."
Doña Celia is one of the community's elders and also a visual artist. She is discussing the importance of memory and documentation in the context of conflict survival. It is March 23, 2017, the 20th anniversary of the Peace Community's decision to declare itself a neutral, non-violent collective in the middle of one of Colombia's deadliest conflict zones: Urabá.
The people of the region have long borne the brunt of tremendous violence. For centuries Urabá has been sought after by investors looking to turn a big profit. Large multinational companies have had a fervent interest in its resource-rich land, close to the Panamanian border and ideal for producing everything from bananas to cocaine. In the late 60s and early 70s, the region was largely controlled by the FARC. Business owners, worried by guerilla interference and efforts on the part of their workers to organise unions, began contracting illegal paramilitary groups to keep the guerrillas at bay, and to shut down unionising efforts. Those paramilitary groups have been blamed for significant human rights violations including the 'False positives' scandal in which civilians were dressed up as guerilla fighters so that soldiers could claim bonuses for their deaths.
In the mid to late 90s, there was a resurgence of paramilitary-led massacres carried out on the civilian population of Urabá. The Autodefensas Unidas de Colombia (AUC), at that time the country's largest paramilitary group, is said to be behind the great majority of these attacks.
In 1996, hundreds of campesino families were forced to flee their homes in the village of San José. A year after this massive displacement, the Peace Community of San José de Apartadó was born.
Not only in Urabá but also in a lot of other parts of the country, we're seeing a really strong paramilitary presence.
As a part of their non-violent resistance, Peace Community members freely abide by certain rules: they all participate in weekly communal work days; they do not accept reparative payments from the Colombian government in exchange for their status as victims of the armed conflict; they do not grow or sell illicit crops; they do not drink alcohol; they do not carry guns; and they do not share or report information to any of the involved parties. They have been granted protective measures by the Inter-American Court of Human Rights and are both physically and politically accompanied by a number of international human rights organisations, but have not seen an end to the violence in the region.
The controversial demobilisation of the AUC in 2004-2006 did not reduce the paramilitary presence in the area. Now the biggest active paramilitary group is the Autodefensas Gaitanistas de Colombia (AGC), which many believe is predominantly made up of former AUC soldiers.
Since 1996, nearly 300 members of the Peace Community have been killed. In 2005, a community leader was murdered in a joint attack carried out by both paramilitary and military forces. Killed along with him were a number of other members, including four children, one of whom was just 18 months old.
When pressed on the killings, former president Uribe's government proclaimed innocence, and indicated that the victims had been either sympathisers or members of the FARC. However, eyewitnesses and a later confession by military commander Captain Gordillo, soundly discredited this claim. Nevertheless, the Peace Community's requests for an official apology, and for the government to more thoroughly investigate how such a massacre could occur in the first place in order to prevent further atrocities, have gone unanswered.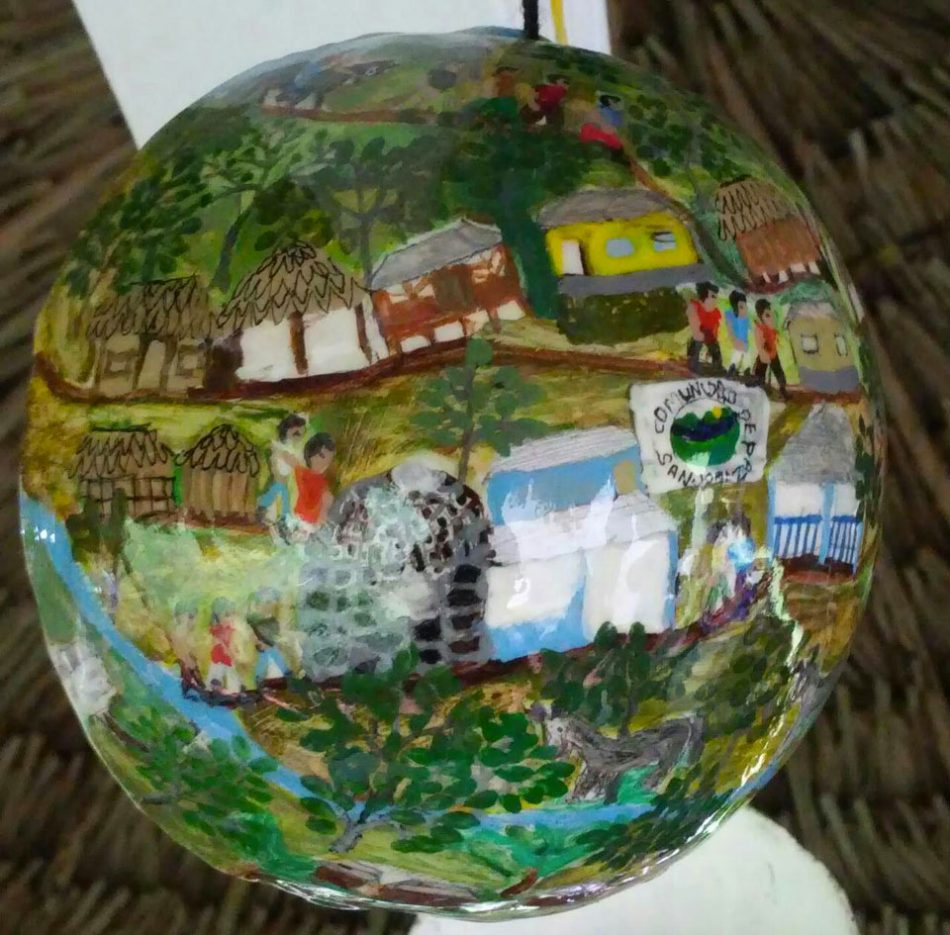 Demobilisation has not brought peace
Juana* has three chickens, a cat, a dog, and an occasional piglet circling around her open backyard kitchen as she pours guests borojó juice. She has been in the San José area for years, and has seen the territory change hands between armed groups countless times. "Foreigners think that the demobilisation [of the FARC] is bringing peace," she says. "That's not the case."
She explains that the paramilitary groups have been around for a long time, but with the recent peace accords, they are again gaining steam, aiming to take control of the territories the FARC have promised to leave behind. There's a problem, she thinks, when the media downplays the paramilitaries by referring to them as organised crime groups (BACRIM), rather than recognising them as structural, widespread institutions. She, like many Peace Community members, fear that these groups have political alliances and intentions.
What's more, the international press coverage of the signing of the peace accords, and President Santos's Nobel Peace Prize, have convinced many people that the conflict in Colombia is finally over. There is no longer an international sense of urgency to respond.
Names are important here – the term BACRIM was originally coined by Uribe because he didn't want to admit the existence of paramilitary groups. Now the government is calling them Grupos Armados Organizados (GAO), but those who live with the violence, like Juana or Doña Celia, still use the term "paramilitaries". Others, including academics and NGO's that study the conflict, use the term "neoparamilitaries."
Neoparamilitaries continue to terrorise the Urabá countryside, allegedly aided by a military unit (the Brigada 17, which has a long history of being implicated in human rights violations and paramilitary links).
True peace, for the Comunidad de Paz de San José de Apartadó, would allow them to live with dignity in their homes and stay connected to their cultural identity. "A campesino without land is not a campesino."
When asked about his take on post-accords Colombia, Peace Community representative Germán gets a dubious look on his face. "We're far from an end to the conflict at the national level," he says. He points to inadequate consultation on the part of the Colombian government with victims of the armed conflict. Germán argues that the only way to see the success or otherwise of the peace accords is to talk with the people on the ground. "Not only in Urabá but also in a lot of other parts of the country, we're seeing a really strong paramilitary presence."
The evidence is undeniable. In late January and early February, international human rights observers who accompany the Peace Community saw neoparamilitaries camping out in the district of San José. In early February, a relative of Peace Community members was raped by neoparamilitaries, and a man from the area was murdered by the same group in the northern city of Turbo. As recently as last week, local campesinos have reported seeing paramilitaries on their land.
This leads many to question the priorities of the Colombian state. At the Fifth International Forum on Non-Violence held at the University of Quindío in late March, a spokesperson for human rights research group Somos Defensores revealed that the group has seen even more violence in the country since the 'No' vote was passed in October. Their tone was one of urgency: "The authorities know about what is happening, and they are not doing anything."
While Germán admits that the demobilisation of the FARC is "a step" towards peace, he doesn't think it looks like Colombia is anywhere near reaching a "true peace". True peace, for the Peace Community, would allow them to live with dignity in their homes and stay connected to their cultural identity. "A campesino without land," Germán says, "is not a campesino."
The Comunidad de Paz de San José de Apartadó is committed to fighting for their right to exist. They wrote in response to the latest set of threats in February: "We refuse to renounce our principles, we affirm our presence in our own territories, we refuse to abandon our life project, we will not retreat even a centimetre, in spite of the risk of being tortured or murdered." Indeed, for many Colombians, the war is not over.
*names have been changed to protect identities.
---
By Penelope Glass