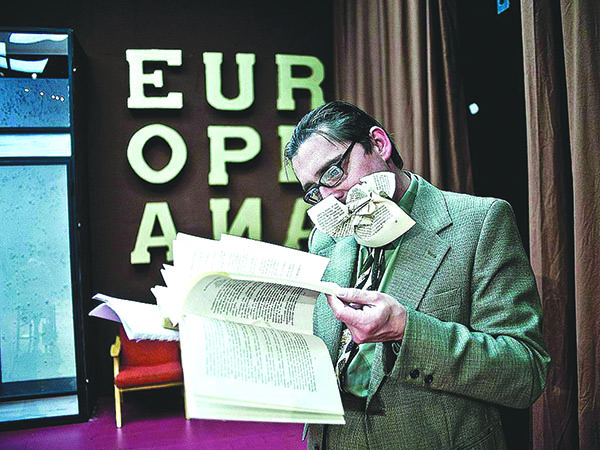 One of the highlights of this year's cultural calendar has been Bogotá's fourteenth Ibero-American Theatre Festival. This exciting biennial event was begun in 1988 by the late Fanny Mikey, and brings together theatre companies from all over the world.
---
This year, around 1,200 actors belonging to over 100 theatre companies from 26 different countries (and as diverse as Brazil, Norway, Korea, and Australia) performed 60 different plays in 32 theatres all over the city. There were over 350 individual performances in all during a total of 17 days from 4th to 20th April with nearly 280,000 tickets sold to keen thespians as well as first time theatre-goers from Colombia and abroad, and that's not including the extensive programme of free "street theatre", the cabaret, or the works which were presented in "non-conventional spaces".
On Saturday 5th, I, along with thousands of Rolos and other foreigners, went down to Carrera Séptima between Plaza Santamaría (the bullring) and Plaza de Bolívar to watch the raucous, colourful, and highly engaging Inaugural Parade. Some of the participants appeared dressed in fantastical costumes, were bedecked with technicolour feathers or had brightly painted faces, others carried hundreds of balloons or gigantic kite-like puppets, and yet more showed off their circus tricks and rode unicycles, and many performed traditional Colombian dances.
The Festival's motto this year was "Todos tenemos que ver", a play on words meaning both "We've all got to see (a performance)" and "We're all involved". Whether all those Bogotanos who wanted to be involved and see a performance is doubtful.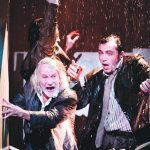 The Festival has been criticised by some for being prohibitively expensive for most Bogotá residents. It is a challenging question because clearly, organising such a huge event and bringing so many companies from across the globe is expensive and Colombian theatre does not benefit from the cultural grants/subsidies that many of us are used to in Europe and North America.
Nevertheless, as I watched The Tempest and observed the packed balconies (the cheaper seats) and the much emptier rows closer to the stage (the 100-200 thousand peso seats), I couldn't help thinking that had the tickets been sold at cheaper prices, they would have a filled more seats and the Festival would have made just as much money.
It should also be noted that there were over 100 free teatro calle events, encompassing around 40 different performances of theatre, dance and music, at 20 open air public spaces across the city (almost twice as many locations as last year) from Tunal to Suba, Bosa to Usaquén. I was impressed by a free contemporary dance performance in Parque de la Independencia by a 4-man troupe called Kukai Dantza who creatively combine modern techniques and styles with traditional dances from their native Basque Country.
All in all, the copiously diverse and truly global range of works offered by the fourteenth Ibero-American Theatre Festival did not leave me disappointed – quite a challenge as I'd been looking forward to it since arriving in Bogotá two years ago! In fact, I'm tempted to stay until, or at least come back for, the next Theatre Festival in 2016!
---
By Christopher Outlaw