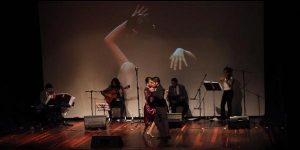 The best of Argentine culture hits the city with the Festival de Tango, María Alejandra Jaramillo previews this year's event
---
Bogotá is set to host a stunning spectacle of music and dance for the third time, as the city gets ready for the Festival de Tango. From June 11-18, bogotanos and everyone interested in tango can enjoy free performances by the best tango dancers in the country and participate in a whole host of activities.
The festival kicks off with an event especially for children at the Teatro al Parque (Carrera 5 #36-05) on June 11 from 12.30-2.30pm.
Places like the Museo Nacional (Carrera 7 #28), Teatro Julio Mario Santo Domingo (Calle 170 #67-51), and the Biblioteca Nacional (Calle 24 #5-60) will be part of the festival, with numerous shows and concerts. June 17 will see a special tango flea market on Park Way from 1-6pm.
With some excellent performers across the week of the festival, there's plenty to keep audiences entertained. The lineup includes musicians Julián Guerrero y su Compas de Tango, Rodnic Duvan and Hugo Diéguez, Edgardo León and Natalia Morales. Dancers taking part include Carlos Ochoa, Laura Castañeda, Adriana Gonzales, Juan David Bedoya, Ingrid González, Harold Montes and Javier Corrales.
Whether or not you're a tango fanatic, this is an event that offers the opportunity to enjoy some stunning dances and captivating music. There is no excuse for missing this interesting festival that incorporates Argentine culture with the best of national talent.
For more information visit their website.
---
By María Alejandra Jaramilo