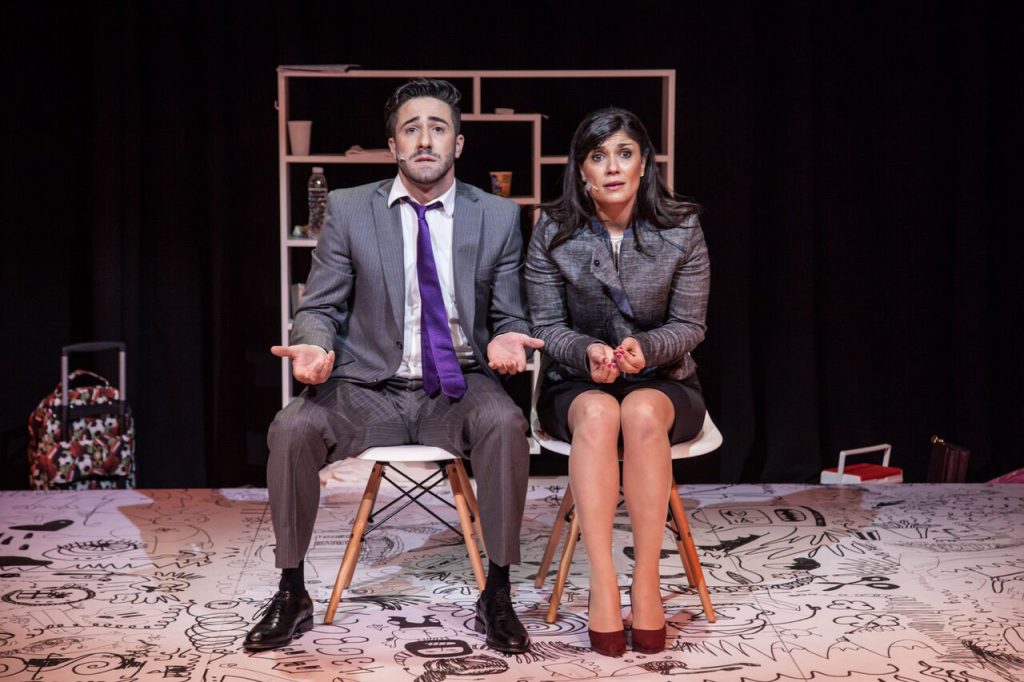 The city's biennial theatre bonanza is upon us and with so much to see we whisk you through the whirlwind of drama that is set to envelop the capital.
This year's guest of honour is sending some of their finest actors and directors.
---
This year, the FITB spotlight will shine especially brightly on the festival's guest country of honour: Argentina.
Argentine theatre is known not only for the extensive list of international awards and recognitions it has received, but also for the emblematic figures that have taken centre stage or pulled the strings behind the scenes. In the case of the latter, a number of heralded directors will be taking part in the two-week event, with each bringing their own artistic panache to the fore.
Playwright, actor and  theatre director, Rafael Spregelburd is known for his formidable international acclaim in the theatre world. The recipient of numerous awards, Spregelburd has had his works translated into 14 different languages and is currently showcasing one of his more recent works, Spam.
Another director garnering considerable attention is Emiliano Dionisi, one of the youngest players in this year's festival. The 31-year-old multi-talented director's recent musical, Los Monstruos (The Monsters), features a strange fusion of theatrical music which blends themes of sickly parental love, life in academia, parenthood, infantile traumas and much more.
Related: FITB: Theatre on the international stage
Not to be overlooked in this year's theatre festival are Alejandro Tantanian and Marilú Marini. As is the case with most directors showcasing their works at FITB, Marini is multi-talented: directing Escritor Fracasado (The Failed Writer), while also playing the protagonist in Todas las canciones de amor (All the Love Songs), a musical directed by Tantanian. In it, Marini uses music to tell the story of a woman full of memories and dreams who anxiously awaits the love of her life.
Much like a Woody Allen filmography, you'll find that this festival features a lot of the aforementioned carry-over that links a director to an actor who is linked to a playwright who is linked to the director.
On the subject of Woody Allen, Marcial Di Fonzo Bo, who gave an impressive interpretation of Picasso in Allen's 2011 film, Midnight In Paris, is among the heralded actor-directors who will be in attendance this year. His adaptation of a duel role in Eva Perón / El Homosexual o la dificultad de expresarse (Eva Perón and The Homosexual or the Difficulty of Expression)provides a modern interpretation of a work first showcased in France in the 70s that has been described as "a mix of glamour, adult comedy, melodrama and vaudeville."
Related: FITB: The best of Colombia in theatre
If for no other reason, Argentina's feature role in this year's theatre festival is deserving of our attention for the sheer diversity of works, actors and directors that will be on display. Though many of the plays share the common thread of actors and directors, the subject matter to be presented will be so distinct that you would hardly notice. With their lengthy history of presenting theatrical masterclass after theatrical masterclass, our Argentine guests are sure to put on a show worthy of the awards they've become so accustomed to winning.
---
Practicalities:
We've tried to give you a taste of what's on offer both here and in the listings section, but go to the FITB website for the full and detailed programme, festivaldeteatro.com.co.
Tickets can be purchased online at TuBoleta.com.co, the official retailer, or in person at the box office of participating theatres.
Please note that dates and times are subject to change, and a minimum age requirement is in place for some shows, so it pays to check online before you get dolled up and head out.
---
FITB runs until April 1 and has several plays throughout the city, find our recommendations here, or the full FITB program here.