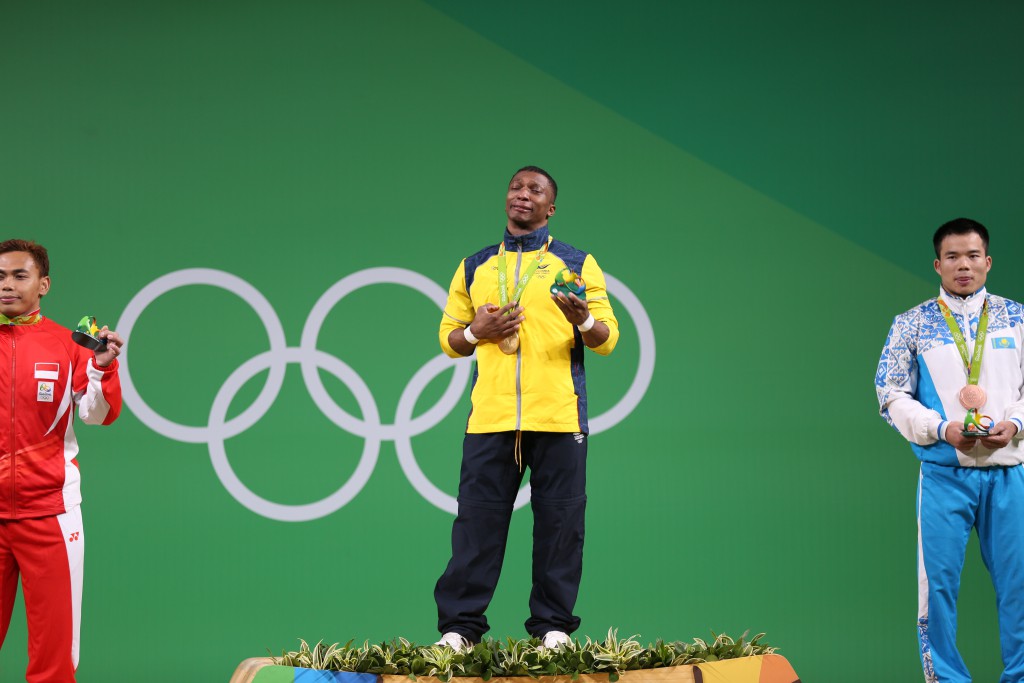 Day three finished with a historic gold medal for Óscar Figueroa, John Bartlett gives his view on what happened today and what you should watch tomorrow
---
Day three of Colombia's Rio 2016 odyssey unquestionably belonged to 33-year-old paisa Óscar Figueroa, who brought home only his country's third ever Olympic gold medal – and the first won by a male athlete – with a commanding victory in the 62kg weightlifting competition.
Going one better than his silver medal at London 2012 – during which he set an Olympic record in one of the two categories in his discipline – Figueroa fought back tears as he let the winning 176kg – weighing nearly three times as much as he does himself – drop before him.
He was cheered on by a packed auditorium draped in tricolors and trembling with the noise of the numerous Colombians in attendance – all of whom stayed to belt out the national anthem as he was overcome by emotion on the top step of the podium.
Having won the Olympic title, Figueroa said he was going to retire from the sport after a golden end to a 22-year career, however he has since gone back on his words, saying that Tokyo 2020 is within his sights. His mother's moving and near-incomprehensible interview – along with the outpouring of emotion across the country – is proof of how popular a competitor Figueroa has been; and gives an indication of what his achievement means for the country.
Elsewhere, other Colombian Olympians put in solid performances, if only to be overshadowed slightly by Figueroa's wonderful performance. Lina Marcela Rivas finished in a creditable seventh place in the 58kg weightlifting; while boxer Yuberjen Martínez won his bout by unanimous decision 30-27; 29-28; 29-28. He will fight his quarterfinal against Spain's Samuel Carmona on Wednesday at 9.15am (Colombian time).
Tennis players Juan Sebastian Cabal and Robert Farah fell foul in the second round in the men's doubles, losing in straight sets to US pairing Jack Sock and Steve Johnson, a day after ousting the number one ranked team former by Nicolas Mahut and Pierre-Hugues Herbert. 50-year-old shooter Danilo Caro, in his fifth Olympic Games – a Colombian record – finished in 27nd place and did not qualify for the final.
In the men's RS-X competition, windsurfer Santiago Grillo finished 27th in the first race and 24th in the second, meaning that it is unlikely that he will challenge for the medal places.
Finally, it was reported that Colombia House – the country's cultural base in the city – has already received 15,000 visitors in its first two days of operation. And with red-hot gold medal favourites Catherine Ibargüen (triple jump) and Mariana Pajón (BMX) yet to make an appearance at these Games, that number should yet rise further: there's plenty to be excited about for Colombia!
Highlight of the day:
Not a difficult one: Óscar Figueroa's gold medal.
One to watch tomorrow:
Not many are tipping him for success, but young John Rodríguez could be worth watching in the men's epée. Jorge Luis Vivas should also beat Cameroon's Wilfred Seyi in his middleweight bout.
What's on tomorrow? (Colombian time)
| | |
| --- | --- |
| 7.00 am | Men's individual epée, Round of 64: John Rodríguez (COL) vs. Dmytro Karyuchenko (UKR) |
| 8.57 am | Individual women's archery: Ana María Rendón (COL) vs. Christine Bjerendal (SWE) |
| 10.45 am | Men's boxing, Jorge Luis Vivas (COL) vs. Wilfred Seyi (CAM) |
| 11.03 am | Women's weightlifting, 63kg, Mercedes Pérez |
| 11.15 am | Men's RS-X windsurfing, Santiago Grillo |
| 11.55 am | Men's 200m breaststroke, heat 4, Jorge Mario Murillo |
| 1.26 pm | Individual women's archery, Natalia Sánchez (COL) vs. Ksenia Perova (RUS) |
| 5.00 pm | Women's football, group G, Colombia vs. Estados Unidos |
| 5.00 pm | Men's weightlifting, 69kg, Luis Javier Mosquera |
| 9.03 pm | Men's 200m breaststroke semi-final, Jorge Mario Murillo (if qualified) |
---
By John Bartlett