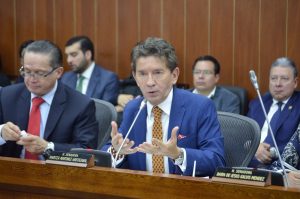 An arrest warrant was issued yesterday for Governor of Antioquia Luis Pérez Gutiérrez on contempt of court charges. The warrant was authorised by a criminal court in Bello–a metropolitan area in northern Medellín–and required Governor Pérez to be detained for three days and pay an amount equal to five minimum legal salaries (around US$1,200).
The arrest related to an tutelary proceeding which the Governor had allegedly disregarded. The case permitted mechanics to return to their place of work, which is the subject of a development plan and is currently a parking lot in Bello. A citizen had filed the original tutelary proceeding and Colombian media sources have reported that Pérez was arrested in having acted in contempt of that ruling.
Pérez was not the only person caught up in the warrant, with the judge also ordering the arrests of Victoria Eugenia Ramírez, Secretary of the department's gubernatorial office, and Julián Andrés Yepes, police inspector of Bello.  
According to Noticias Caracol, the tutelary proceeding was originally in response to a violation of due process, which a local court found against Police Inspector Yepes in relation to a new development in the area. In response to the warrant, the gubernatorial office released a statement rejecting the premise of the warrant, saying that the tutelary proceeding "has nothing to do with the Governor of Antioquia."
Luis Pérez is a popular governor known for his outspoken manner in the department and was recently in the spotlight for his severe criticism of  EPM over their progress on the Hidroituango project, which faced major construction flaws and has displaced thousands living along the Cauca river. A seasoned politician, he was elected in 2015 and his term is due to expire in December next year.