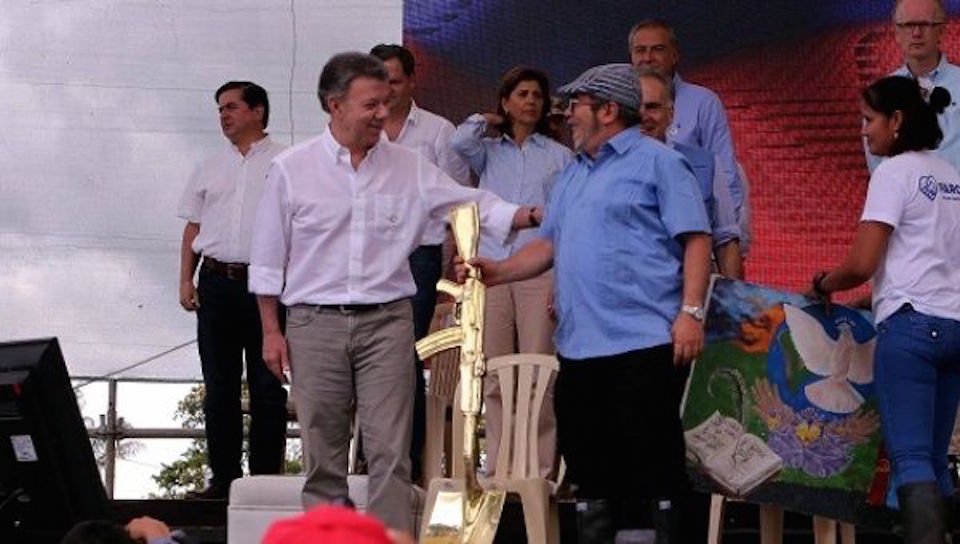 Another historic step as UN confirm 7,132 weapons handed over in FARC disarmament, marking an end to the guerilla's armed insurgency.
---
On the morning of Tuesday June 27, President Juan Manuel Santos and FARC leader Rodrigo Londoño ("Timochenko") came together to declare the completion of the FARC disarmament, bringing over five decades of conflict to a close.
The head of the United Nations mission to Colombia, Jean Arnault verified the handover of 7,132 weapons that are now stored in special containers under UN control. Arnault explained that 700 arms are temporarily exempted from this to guarantee the security in the 26 transitional zones until they are dissolved on August 1.
"Farewell to war, farewell to arms. Welcome to peace!" Timochenko proclaimed in his remarks at the historic ceremony. "Today, the FARC will not cease to exist, but it will put an end to its armed insurgency," the commander said, referring to the guerrilla's plans to form a political party and present its ideas in the democratic arena.
During his speech, Santos lauded the FARC for complying with the disarmament timetable and stressed that peace was "real and irreversible." Despite setbacks in the legislative implementation process that saw modifications made by members of congress and a historic low in approval ratings, Santos affirmed that today's milestone event had made his presidency worthwhile.
FARC members in the transitional camps across the country now begin their reintegration phase before they officially enter civilian life. For many, this process begins with the seemingly simple step of being issued a Colombian identity card for the first time in years or ever.
Undoubtedly, the FARC disarmament marks a crucial step forward in the peace process, but much remains to be done and the hurdles are many. Legislative ratification of the most important measures is still under way and could stall as a result of a recent constitutional court ruling.
In addition, the FARC remains skeptical of the government's commitment to comply with the deal, especially considering that many rebels guilty of minor crimes have not been released from prison despite an amnesty law passed for precisely that purpose six months ago. There are also concerns regarding the killings of human rights defenders and social activists in regions that have seen an increased presence of neo-paramilitary groups.
The FARC, on the other hand, will soon have to comply with their promise to disclose their assets and use them for victim reparation and their reintegration into civilian life.
---