Organic Bogota: From veg boxes to  organic shops, the city has a huge variety for the conscious consumer. Charlotte Mackenzie goes green across the city
---
Bogota's organic landscape is ever-changing – not only are people more aware of what they are eating and where it comes from, but if you dig a little deeper you can tap into grower networks and groups alike. From small inner-city farms, to fortnightly organic markets, The Bogotá Post has been looking into not only where to buy, but why more and more Bogotanos are choosing organic.
Although pricier than your supermarket staples, organic foods have been found to be free of neurotoxins and are higher in antioxidants than traditional foods. Organic food is more sustainable, not just giving the earth a break from modern agricultural methods, but also supporting small-scale farms and local growers. Not to mention going organic has been proven to reduce your risk of cancer.
"I am a farmer by profession, and about 20 years ago we began working with the government of Cundinamarca in relation to farmers' markets. I have now been working in organic produce for 10 years and four years here with the organic vegetable boxes." So tells me Arturo Zora-Garzón, a grower from Tequendama Alto, part of the Mercado orgánico: Consciente y Solidario movement, as he shows me what he has brought to the house in La Soledad where the vegetable boxes are assembled.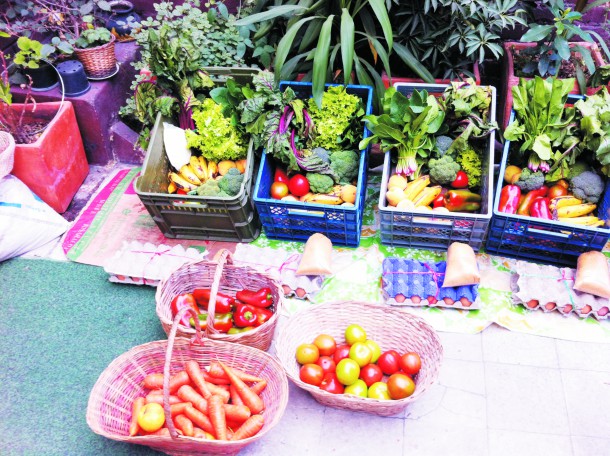 Establishing networks and finding like-minded farmers has been a slow process.  While showing me an array of organic honey, aubergines, potatoes and rice, he adds, "We have had to fight a lot so that people understand how important it is to return to organic growing".
Francia Camelo, from a panela growing family in Tolima, is also heavily involved in the organic shop close to the Calle 26 Transmilenio stop.
"I began working with my brothers, bringing our organic panela to Bogota. During the week I talk to growers to see what they are going to bring, what they have been growing." Francia is just one of a group of budding volunteers, liaising with farmers and maintaining a successful grower's network.
"Each basket has around 16 or 17 seasonal products. We always include cheese, eggs, carrots, potatoes and onions as they are Colombian kitchen staples. Fruit and other vegetables depend on supply," she explains. Vegetable boxes are assembled according to the buyer's order, and are available for collection every two weeks. Yet those worried about their carbon footprint need not worry.
"All the food we sell here comes from close to Bogota or in Bogota – we don't want to waste fuel or energy resources just to get a few kilos of rice."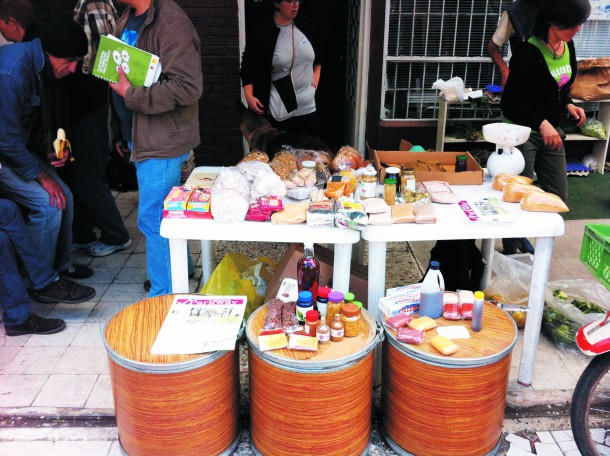 Raquel Cardozo, a herbologist at the Fundación Instituto de Botánica Aplicada, adds, "the grower is paid more, the consumer pays less and both are happy with the final product!"
Bogota is even home to foundations supporting organic, conscious agriculture.
Tracey Armitage works for Sembrando Confianza, part of the Projects Without Borders foundation.
"It's an initiative to increase and support organic urban agriculture in Bogota. We hold markets from small-scale producers selling fruit, vegetables, eggs, bread and cakes… it's all artisanal. We work closely with producers to aid them with the logistics and sale of their products," she says.
"We have a weekly basket on offer which is a real mix of products, clients can choose from a whole list of things to keep adding on. We act as a sort of facilitator connecting consumers with the growers to create a short value chain," she adds.
The seven year-old foundation started with a project in the Santa Rosa neighbourhood in the south of Bogota, home to a large population of displaced people.
"We wanted to create projects to build a social network, by creating urban gardens. There are currently about 25 gardens in that area. There's also a rooftop greenhouse which is a community centre!" she explains, giving a real sense of just how far the project has come and how it has benefited Bogota's urban farmers.
Yet it is not just vegetable boxes that are changing approaches to food. Hidden away close to the Museo Nacional and a few blocks up from the hustle and bustle of the Septima is Maria Elena's tiny urban farm. This amazing lady, a trained chef, now produces all her own organic products for sale – from quinoa milk, burgers and even paté to soya cheese.
Maria Elena Villamil, born and raised in the Perseverancia barrio, owns an urban farm where she has been growing her own fruit and vegetables for the past eight years. "I did two years of training with SENA in urban agriculture to better understand how I could grow and produce here. We couldn't grow in the soil, there's a really old cypress tree that was stealing all the nutrients, so we created raised beds."
"We grow crops that are traditional to the Sabana de Bogota, during the past eight years that's been a total of 80 different crops. I've grown 15 types of lettuce, eight types of potatoes, four types of corn, three types of celery, six types of tomatoes… we change each year," she explains.
Maria Elena has learned her own unique growing techniques, focusing first on growing for her own consumption rather than large-scale sales.
"I am self-sufficient, I can live and eat from my vegetable garden. A few people give me kitchen scraps to make compost, I don't need to leave the farm to buy anything. I have started making hamburgers, milk, massato, ice creams… all from quinoa. I use vegetables to make obleas, juices, then I can sell the products. I don't sell the vegetables. I prefer to give people a mix of all the different crops that we have here."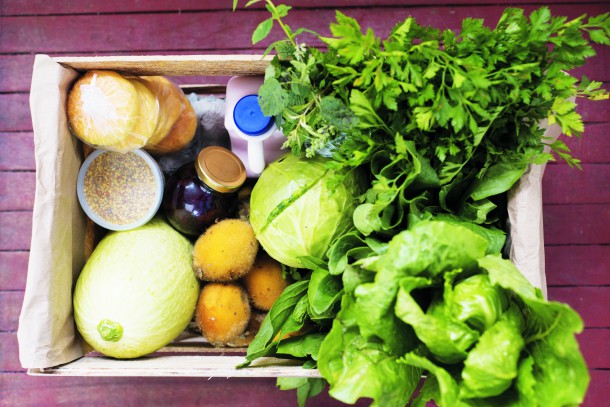 So, if you are into buying produce free from toxins, pesticides and additives, want to support local producers and go green, here is a list of a few places to pick up your cupboard staples, fruit and veg, beauty products and household cleaning goods:
Clorofila
Something of an institution, for the past 14 years Clorofila has been catering to the increasing demand for organic goods. Definitely worth a look for lovely preserves, fresh produce and presents for your more green-fingered friends and family.
Chicó: Carrera 13 #77a-75
Park Way: Calle 41 #24-20
Bio Plaza
Brainchild of German Alexander von Loebell, Bio Plaza also boasts a nice café with a varied menu del día. Really good selection of beauty products and a great range of vegetarian alternatives.
Chicó: Transversal. 17  #98-13
Nogal: Calle 79b #7-90
Usaquén: Calle 120a #5-07
Chapinero Alto: Calle 65 #3b-07
La Ecotienda 'Mercado Verde'
Owned by actress Margarita Ortega, you can also enquire about organic cookery courses. If you love cooking, Mercado Verde is worth a visit for foodies and gluttons alike.
Chicó: Carrera 13a #79-71
Green Market
With a wide range of produce from Madrid, Cundinamarca and free-range, organic chicken, this is a good option for those living around the Calle 100 area.
Chicó: Calle 91 #13a-14
La Tienda de los Champiñones
Further north, La Tienda de los Champiñones offers corn based delights, products from the Sabana Cundiboyacense and organic wine.
Calatrava: Calle 127  #70d-65
Mercado Orgánico Consciente y Solidario
Staff are happy to help and very knowledgeable. A good option for those nearer the centre or really far north. Ask here about the fortnightly vegetable boxes with collection from La Soledad.
Teusaquillo: Carrera 15 #28a-12
Verbenal: Calle 186bis #18a-21
Mercado Agroecológico Campesino
Every Sunday between 9am and 3pm this Chapinero-based market comes to life. Great for honey, organic produce and knick-knacks from friendly stallholders.
Chapinero Alto: Calle 69 #6-20
Balú
A fantastic selection of meats and cheeses, and those on a gluten-free diet.
Usaquén: Calle 121 #7a-33
Reserva Natural Tenasucá
If you fancy getting out of the city and picking your own, then Tenasucá reserve will really have you get your hands dirty. It's definitely worth getting in touch as the owners have occasional weekend vegetable offers – and will deliver.
Call: Roberto Sáenz Gómez or Vicky Molina Arbeláez on 2458184 or 3112636531
La Canasta Solidaria
Veg boxes from $40,000 – they will deliver to you. Includes seasonal vegetables and 10 free-range eggs.
Email: [email protected] or Facebook: 'La Canasta Solidaria'
Sembrando Confianza
Find more information about Bogota-based projects and order your veg box.
www.sembrandoconfianza.com
Floriberto de Cubillos
Part of the Asopromes growers network and incredibly happy to help – veg boxes delivered to you directly. Currently 27 products on offer but depends on demand.
Call: 3133841552
---