Colombian cuisine has so much more to offer than arepas and empanadas, as Victoria Robey finds out when she visits Mesa Franca, a new Chapinero restaurant that is taking the country's food to new heights.
---
Opened less than three months ago, and you already need to book in advance or stand in line to get a piece of this fantastic and innovative new restaurant. Mesa Franca only serves Colombian food, and aims to celebrate – and give a modern twist to – the spectacular cuisine of this country.
Located on a street corner of Chapinero Alto, the house seems nondescript at first, but its minimalist interior design is actually perfect. The illumination, the music, the layout and the friendly smiles and greetings from the staff make this a pleasant dining experience from start to finish – and that's before we even got to the menu.
I start with drinks. Mesa Franca doesn't do wine but has an interesting selection of cocktails, which are divided into sections: Spritz'd, Sours, Raspados, High Balls and Aromáticos. The amiable bartender recommends a Mandarin Martini from the 'Aromatic' list, which scores highly in all aspects. It's beautifully presented and succeeds in both refreshing me and whetting my appetite as I wait for a friend.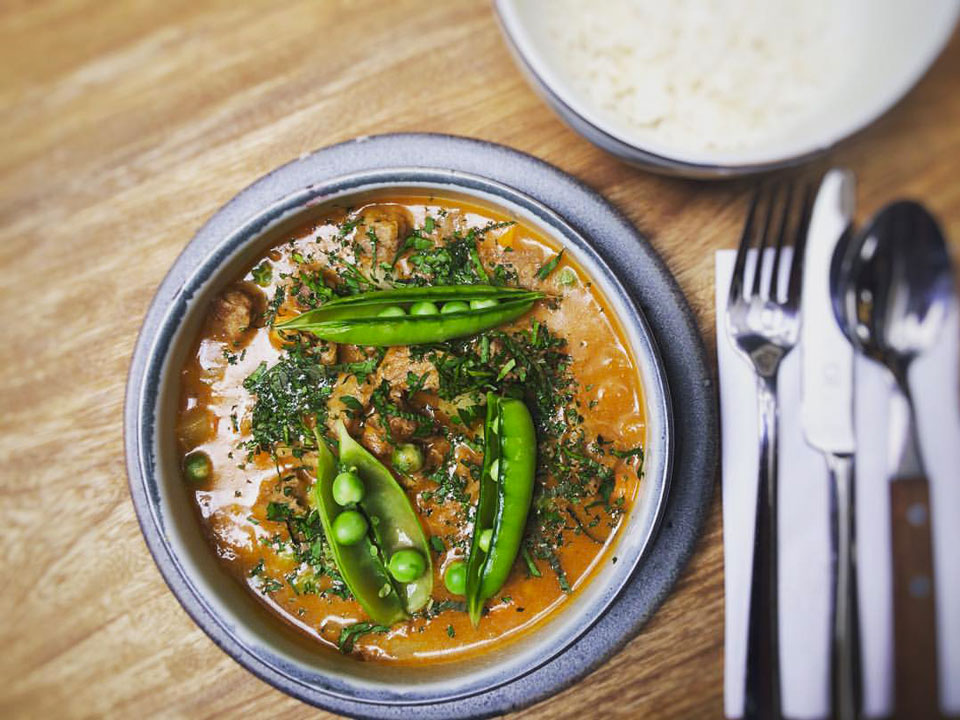 My friend arrives twenty minutes late after sitting in a restaurant around the corner that also boasts the word 'Franca' in its name. We order a bar snack, Buñuelos de yuca con trucha ahumada. This is not your typical buñuelo from the side of the road on the ciclovia but is actually more akin to the wonderful carimañolas that you find in Cartagena and Santa Marta, only even better. They are perfectly sized, with an excellent taste and just the right amount of crunchiness. Served with suero costeño (never a bad thing) and aji de panela, it was just what we needed to keep us going until we got to our table.
Cocktail number two was the Uchuva Spritz. Fusing one of my favourite Bogotá fruits with mandarin vodka and sparkling wine, it was lovely. Our second starter was a beetroot dip with kefir, candied carrots, watercress and toasted sourdough bread. This charming combination of colours, textures and flavours appeals to both the eye and the palate and was the right size to leave us room for more as we moved on to the mains. I ordered the octopus, which comes with a vibrant beetroot chimichurri, yellow peas, and yuca in two different textures. One was integrated into a delightful alioli and the other was crispy and fried. The dish was modestly decorated with rocket, and although excellent, the portion was a little on the small side.
However, my friend was kind enough to share the rib-eye steak, which comes with roasted seasonal vegetables and a side salad, and between the two dishes we had enough food to leave us both satisfied. The steak seemed appropriate for "medium-well" as my friend requested, and was suitably tender.
When it came to dessert, we made the foolish mistake of not taking our server's advice when she recommended the Dona, the house speciality. The combination of arequipe, fig custard, vanilla ice cream, and crunchy coconut sounded amazing, but instead we opted for the panna cotta de stracciatella. While the panna cotta was by no means bad, it lacked a certain spark that had been prevalent throughout the rest of the meal.
As I finished my dining experience with a humble aromatica, I sneaked a look at the other tables. Without a doubt, next time I'll order the pork belly and encocado.
Speaking of pork, I am told that every Thursday night is 'Salsa vinilo y cochinillo' where they serve up suckling pig and DJ Pantera plays classic salsa all evening with vinyl and a pair of turntables. It sounds ideal.
All in all, Mesa Franca offers a modern and original food tour of Colombia that is enhanced by well-trained and knowledgeable staff. Highly recommended.
Food: 4.5/5
Service: 5/5
Atmosphere: 5/5
Value for money: 4.5/5
Dishes between $15,000 and $34,000
Cocktails between 17,000 and $40,000
---
Victoria Robey originally hails from the UK and has been living in Colombia for almost eight years. She is currently in her final semester at one of the best culinary schools in Bogotá. Once she's graduated and has her international chef certification, she hopes to set up a restaurant – hence her keen interest in innovative Colombian cuisine.