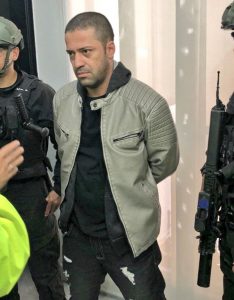 Juan Manuel Piedrahita Giraldo is now in the custody of authorities following a wave of violence that affected neighbourhoods in Medellín like Comuna 13 and Robledo. Known in the media as "Juancito", the 45-year-old gang leader had been considered Public Enemy No.1 for his role in the spontaneous eruption of violence that took place last week.
20 million pesos were awarded for his capture and, according to the police, Juancito turned himself into the authorities after intense pressure had been building around him. The gang leader gave himself in his neighbourhood of Belencito in Comuna 13 after two consecutive raids on his home and authorities hope that his arrest will ease the current tense atmosphere in the neighbourhood.
Con la presión de @DIJINPolicia, @PoliciaMedellin, @FiscaliaCol y #FiscalíaCrimenOrganizado, delincuente conocido como "juancito" se sometió a la justicia; este sujeto era uno de los más buscados de #Medellin. @region6policia @PoliciaColombia pic.twitter.com/klIYhLmN30

— BG. Óscar A Gómez H. (@PoliciaMedellin) May 1, 2018
Who is Juancito and what was his role in the uptick of violence in Medellín?
Juancito was the leader of Betania, a notorious criminal group operating in Comuna 13 that has links to drug-trafficking ring Odin Caicedo, and he has been a gang member for over 20 years. He had been extorting bus drivers in San Javier not to continue with their routes and much of the local agitation in the neighbourhood had been a direct result of his violent actions, according to the police.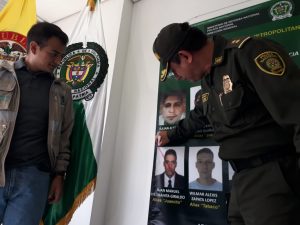 Despite hopes that his capture will reduce the open gang warfare that has terrorised the neighbourhood, there remain another 30-40 members who remain a threat to the peace. Particular focus  will be on the capture of Julián Alberto Jiménez Monsalve, known as 'Machete', who is still at large as well as six other men who are wanted for their alleged role in the violence that has so far claimed many lives and resulted in an increased military and police presence since April 26. In addition to the homicides, there were violent confrontations with bus drivers where a number of bus drivers have been threatened and, in one instance, set on fire along with the bus in Calasanz.
Following the arrest of Juancito, the city council Alcaldia de Medllín praised the coordinated efforts of the police and the community in bringing Juancito to justice, tweeting that "We are conducting a crucial intervention that allows us to recover the trust of the community. For people to speak up [against violence]we have to bring confidence and security in these sectors of the city."