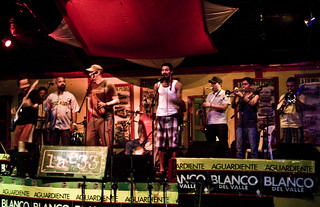 La 33 – the indie salsa band who put salsa bogotana on the map – release part of their long-awaited sixth album, Si Tu Quieres Salsa on May 17.
---
"We come from rock backgrounds, an influence reflected in our music. In this album, though, the rock influence isn't as noticeable. It's more salsero, with characteristics of salsa brava," the band's creative director, Sergio Mejía told me.
Mejía is speaking to us in the place where the magic began – his mother's old house with wooden floors, squeaky staircases, and whitewashed walls. Dressed in jeans, t-shirt, and sweatshirt, he says he is just a normal person who likes to make all kinds of music.
But his group's music is anything but normal.
The rocker-turned-salsero band reinvigorated the salsa scene with their new take on the genre. Back in 2004, 'La Pantera Mambo' – their remake of Henry Mancini's Pink Panther theme – put them in the spotlight. Then songs like 'Qué Rico Boogaloo' and 'La 33' cemented their place in the hearts of audiences worldwide.
From the band's name to its music, "La 33 is kind of a symbol of salsa bogotana," Mejía said. The Bogotá sound comes out through the singer's accent and slang, he explains.
The group are changing things up a bit with their new album, which leans more towards traditional salsa than the others. But it stays true to their bogotano roots and in a way, change is also part of their style: "It's great that each record is unique," says Mejía.
Another change in their music is the addition of flute – new band member Edinson "Lencho" Velasquez is a singer and flautist.
Related: Salsa Claus and some Colombian Christmas classics
Meijía, who began the band 18 years ago with his brother Santiago, reflects on their new sound and subject matter.
"The first part of the album release is a collection of our experiments – strong sound and lyrics about salsa music and parties," Mejía said.
Where previous albums also captured the energy of life and music in the capital, the new album goes further, reflecting on more specific themes about the country and the city.
"The song 'Salerosa' is an ode to Afro-Colombian women, while 'Si Tu Quieres Salsa' is about enjoying life and salsa music," Mejía said. "The second part of the album [not yet released] will be about the urban characters, telling stories of life in Bogotá," he added.
So how did rockers, reggae, ska musicians and even a flautist join to become one of the most famous salsa bands in the country?
Related: Interview with Salsangroove — Colombian nominee for 2017 Latin Grammy
Mejía had actually packed his bags and moved to Canada seeking streets paved with rocker gold. But the move – and being so far from home – actually pushed him from rock music to salsa and he eventually returned to Bogotá to start a band.
The group has performed on all five continents and continues to play in festivals and concerts around the world.
"It's beautiful because we meet Colombians who are far from their country and culture, and through our music they can feel closer to their culture," Mejía said. "It's also great because we can show people what is going on in Colombia and the richness of Colombian culture abroad."
The band are also one of the few Colombian salsa bands who have remained independent, which has also helped them to keep the salsa mixed with rock, jazz and folk elements for which they are famous.
Though staying independent has been a struggle.
"It has been a challenge [to stay independent]. We have explored the option to work with record labels, but it has never worked out. But with each record released, it becomes easier," Mejía said.
He explained that to stay independent, musicians need to know how to leverage the online platforms to showcase their music, to find a specific niche and to have a strong online presence.
"It's about constantly working to find ways to stay relevant," Mejía concluded.
If the mass move onto the dance floor when their songs are played in salsa clubs is anything to go by, staying relevant is something La 33 have certainly managed to do.
These are anthems to Bogotá and Colombia, whose catchy rhythms with trumpet, flute, and congo solos will no doubt capture the hearts of those in the city and well beyond.
---
La 33 will perform on May 17 to launch the new album at the Royal Center.
Carrera 13 #66-80 / 7pm / $64,000 (online price includes album)