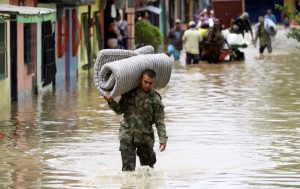 The IDEAM, Colombia's meteorology institute, has warned that there is a 76% risk that a severe La Niña will hit the country at the end of this year
---
La Niña, the sister weather phenomenon to El Niño, will cause extreme rainfall in much of the country. Omar Franco Torres, director of IDEAM, stressed that while the rains may not be as intense as those which devastated the country in 2010, Colombia needs to be ready.
"It is important that the whole country is prepared and that everybody has contingency plans aimed at preventing these events, for landslides, flash floods and floods."
Six years ago, President Santos described the deluge as the "worst tragedy in memory" after 60% of the country – and about three million people – had been affected by landslides, floods and avalanches.
It is thought that the regions most affected by the phenomenon will be the Andean, Caribbean, Pacific and foothills of Los Llanos, where an increase in rainfall could cause the rivers to overflow, resulting in landslides, floods and the destruction of homes.
According to Carlos Ivan Marquez, director of the National Unit for Disaster Risk Management, "the most important thing is prevention". The contingency plan, put together by 12 different ministries, focuses on a prevention phase from July to August, a warning phase from September until the end of La Niña, followed by a stabilisation and recovery period.
On July 5 the government announced that it had allocated COP$50 billion towards preparation and damage prevention programmes, minimising the impact on schools, hospitals and roads.
The government has already invested heavily in infrastructure to reduce the risk from severe weather phenomenon. In La Mojana, works are underway to fortify the banks of the Cauca River, which in 2010 burst its banks leaving up to 300,000 people homeless. Additionally, the macro project El Plan Jarillón de Cali, launched in 2012, will reduce the flood risk of the Cauca River, Canal Interceptor Sur and the Cali River, protecting the life and homes of some 900,000 people.
---
By Laura Sutcliffe