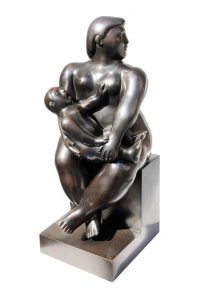 On Saturday, an unidentified man walked out of the Bartoux Gallery in Paris with a sculpture by Colombian artist Fernando Botero – called Maternity – in his arms, discreetly bypassing security and the attention of visitors.
The act has taken authorities by surprise considering the man did not cover his face or exhibit any violence during the robbery of the piece, the French press reported.
The bronze figure, with an estimated value of 425,000 euros (493,000 USD) and weighs about ten kilos, was on display in the gallery when it was stolen. Despite the item's high value, its disappearance was not noticed until closing time on Saturday night.
The French police are currently investigating the mysterious robbery and looking for the suspect. This is not the first case of Botero's art being stolen in Europe: in 2010 another of his artworks was stolen in Spain, along with a number of other pieces from Eduardo Chillida, Pablo Picasso and Antonio Saura. The stolen art had a collective worth of about 5,000,000 euros (5,788,750 USD).
Botero is an internationally renowned Colombian artist and is famous for his generosity – according to El Colombiano, he has donated 400 pieces to public institutions in the country.