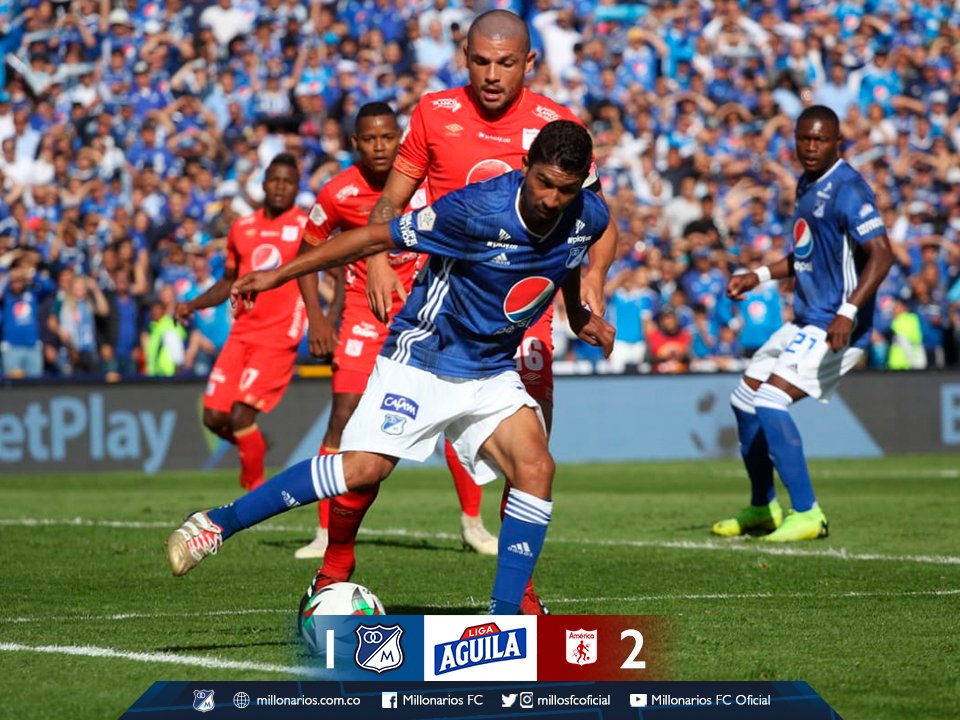 Millonarios' season is over after an unexpected 1-2 home defeat versus América de Cali ends their season, leaving the capital out of the final. Deportivo Pasto rolled over Unión Magdalena 3-0 and will play Junior de Barranquilla in the Liga Águila final.
---
For Millonarios, a victory would have been enough to win their group and qualify for the league final. Before the game, Pasto followed los embajadores on one point, while América and Unión Magdalena were already eliminated. The Pasto-Union game took place at the same time in Ipiales. Despite being played during office hours, El Campín was almost packed for this game.
Under the hot sun, Millonarios took an early lead through César Carrillo who tapped the ball from a corner headed through by youngster Breiner Paz. The hosts looked comfortable against an América team lacking ideas. They had the majority of the possession but Millonarios led by Jorge Luis Pinto were in control. At the same time in Ipiales, Pasto had no problems with Union Magdalena, but were depending on Millonarios to drop points.
América came out of the changing room recharged. In minute 52 striker Jeison Medina, invisible in the first half, headed home a nice cross from the left for the equaliser. Millonarios looked as though they'd been struck by lightning and completely lost control over the game.
Related: Final stages for Liga Águila
América, keen to hurt their historical rivals, didn't let go of their opponent and Medina hit the post soon after the equaliser. América, who had been defeated by Millonarios in Cali, pushed on and found the second goal at the hands of midfielder Carlos Sierra.
Millonarios needed two goals with almost 20 minutes on the clock, against ten men – Juan Diego Nieva having been sent off in a scuffle with Breiner Paz – but they couldn't get themselves back together. Despite some good chances for David Macalister Silva, the scoreline didn't change, meaning early holidays for Millonarios.
Pasto will play Junior for the title. The first leg is in on June 8 at 7:30pm in Barranquilla and the return on June 12.