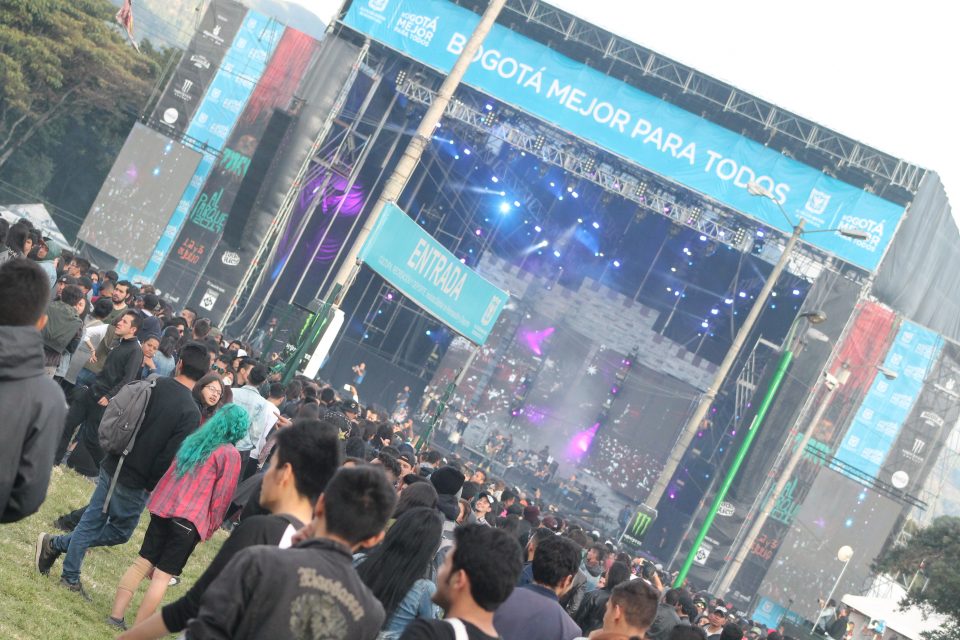 With performances from Acid Yesit, Tulipa Ruiz, Rococó, Kanaku y El Tigre, Montaña, Los Makenzy, Los Espíritus, Los Tres, Mon Laferte and Draco Rosa, Monday at Rock al Parque is a calmer day, but there's still plenty to please the crowds.
---
Monday at Rock al Parque is the final day and sees the festival back to buzzing times, full of people and ready to rock. The day is calmer, so you won't find so much black shining leather, but plenty of alternative goodies. It's also Latin day, bringing together artists from Chile, Argentina, Peru, Puerto Rico, Brazil, and of course, Colombia.
Acid Yesit are not wacky for the sake of it, but simply very different. Featuring a pair of saxophonists, the Pastusos dress strange – their singer looks like he's been decorating the house – and waste no time with words as they keep it instrumental.
The third stage is shaking under the weight of Tulipa Ruiz's voice. She's like a Brazilian Adele, blessed with a great vocal range that flits and twists through a variety of genres, from bossa nova to rock. At times she even goes a bit Portishead. "This is the first edition of this festival with so many women," she says, also pointing out, "but even though women have a space on the stage, they don't have a space in the technical area."
Rococó start well as they burst energetically onto stage, drawing a surge from the very back of the park. Later, though, they tail off somewhat. That's not a problem for Kanaku y El Tigre, but they face an embarrassingly small crowd for their brand of interesting indie rock.
Montaña get a much bigger crowd for their shoegazing alt-rock. For fans of Mogwai. If you're not a fan of Mogwai, you're either an idiot or ignorant, so go and listen to some. Then listen to some Montaña. Then stop being a cheap bastard robbing music and find out where the lads are playing next. Atmospheric and slow. Great visuals. You don't have to be metal to be heavy, and these boys are heavier than the mountains they're named after. Loud as hell walls of sound stream out and everything moves – brilliantly – slower than a snail on ketamine.
Bassist Alejandro Araújo says that, "We were really nervous playing Monday at Rock al Parque and we had to take a moment to breathe." Guitarist Daniel Medina talks at greater length. "We're a band that listens to a lot of post-rock, Mogwai, Explosions In The Sky that sort of thing. Also math-rock, I love TOPE from Japan. But we listen to everything, from Kanye West to Aterciopelados." I mention that I'm surprised to see such a band at Rock Al Parque, as they feel more Estereo Picnic. "Yes, that's true", he says, "We hadn't thought about Rock al Parque, precisely because our style is not so normal for this festival, or even in Colombia." It's a strange sound for Colombia. "The crowd is much bigger for metal, of course," he admits. "But Colombians are open to experimental rock too. There are some bands in the underground, but we're a load of things, not math-rock, not post-rock, but our own sound." He continues, "We thought about hiring a vocalist, but we're comfortable as we are. The music carries our emotions very well."
You really don't see many double bass solos at festivals. Los Makenzy are changing that tonight. Raised up on platforms, the two brothers strum away with their old school blues rock. Andrés starts on double bass but switches out to a regular bass later, his brother Nicolás all the while hammering away at his guitar like a demon.
Finally, some Argentinian rock that's not terrible in the shape of Los Espíritus. Like seemingly all southern cone bands they have acoustic guitars and tonnes of band members. Unlike others, they have bongos too.
Over on the main stage, Los Tres are drawing a massive crowd. It must be true that Chilean Spanish is different since there are five of them on stage. Singer Álvaro Henríquez is as charismatic and tubby as Father Christmas, but clean shaven.
Compatriot Mon Laferte is a woman out of time. She's a throwback to 30s style chanteuses. Mustard yellow suits. Mind you, too much mustard gets up your nose. The focal point is of course Mon Laferte herself, a natural showstealer. Her voice belies her frame somewhat and she's possessed with a devilish energy, leaping and pirouetting like a ballerina despite her towering heels and tight dress.
Backstage she is presented with a silver disc in recognition of her sales. She also talks about problems in rock, saying that, "We need more visibility. Rock is not just for men."
And so to Draco Rosa. Competent enough rock with some interesting rhythms. I don't think it's much to write home about but they draw a big crowd. Maybe you have to be Latin for this one. Maybe it's because Draco Rosa is latin for pink dragon and it's a reference to his endowment in the undergarments.
And that's it. Monday at Rock al Parque means the end of the fun for this year. For all the moaning, it's been a good year with some interesting bands and some shit. As always, I go home with plenty names to type into YouTube, an aching neck and ringing ears. See you next year, kiddies!
---
Photos: Claudia Canizales