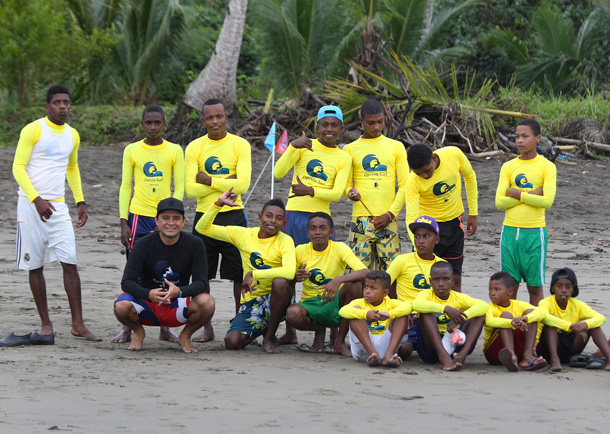 Olly West finds out about Club de Surf de Chocó in Termales, a small community that is making waves in a sport little known in Colombia
---
When Nestor Tello met whale-watching tourist Ryan Butta near his hometown of Termales, Chocó, he had a pressing question.
"Do you like surfing? You're Australian, you must like surfing. We are mad for surfing down here."
At least, that's how the New-South-Wales-born Bogotá resident Butta recounts the pair's first encounter. Sadly he had to let Tello down: Butta is not a surfer. In fact, he can barely even swim.
Moreover, the puzzled Australian thought to himself, there were no surfboards – let alone surfers – to be seen.
Three years later, Butta – along with many in the local community – has helped enable a remarkable surge in participation in surfing in the isolated area of Termales and two neighbouring communities, taking the sport to young people and – though he's hesitant to make grandiose claims – transforming the lives of many locals.
Fundación Buen Punto, the charity he founded after that trip to Chocó, has helped to collect equipment for Club de Surf de Chocó, which teaches around 140 local kids to surf and also hosted a four day festival in October.
And the impact goes beyond sport, according to Tello, club president and director of the foundation.
"Surfing, for our community, brings opportunities and happiness, transforms the children, and makes us look 'beyond our noses' to the outside world", he says, having had to walk half an hour away from the town to find a precious bar of phone signal.
Surfing secret
You can forgive Butta for being taken aback when he first heard about the locals' passion for surfing.
A short boat ride – or an hour's walk through forest and rivers – from Nuquí, Termales has no clean water supply, telephone or internet connections, or paved roads. There are major health problems but no full time doctor. The region has suffered devastating violence from the internal conflict.
But Colombia's Pacific coast around Nuquí has an extraordinarily well-kept secret. As surfers would say, there is an awesome wave.
Add in the region's stunning natural beauty and biodiversity, and the potential for tourism is enough that Butta reckons "there shouldn't be anyone living in poverty" in the region.
"It is one of the most biodiverse, pristine and magical places in Colombia, yet very few Colombians have been here", he says.
But Nuquí is seriously lacking infrastructure and transport links. Indeed, the community was cut off from the rest of the country for several months this year when Satena deemed the airport runway unsafe.
Reigning world champion, Peruvian Analí Gómez, had good reason to compare the area to surfer's paradise Indonesia while a guest at a recent festival.
"It would be a surfing hotspot anywhere else in the world", says Butta. "Surfers will pay very good money for a great wave that isn't overcrowded."
All aboard
When Tello said that his people loved surfing, he wasn't joking. The problem was that  access to boards was tough, with equipment belonging to just a few hotels. It was not always in the best condition and local kids hardly got a look in.
Back in Bogotá, Butta set to work looking for surfboards to take to Termales, hoping to "democratise" surfing there.
Eventually a US foundation agreed to provide five boards if he paid for the freight. On a subsequent trip home in Australia, Butta gathered more equipment, including wax and leg ropes, and founded Club de Surf del Chocó.
An inspired Tello left his job to take a voluntary position as president of the surf club. From 15 kids at the start, the club now teaches around 140 boys and girls in three different communities, having expanded to nearby Arusí and Partadó.
More equipment was found and an abandoned school was turned into a clubhouse. In 2013, the club took four young surfers from Termales to Barranquilla and five to Santa Marta for national competitions, with two of them achieving podium finishes.
The club soon realised that it would be more cost efficient to host a tournament of its own allowing many more local surfers to compete. They hosted tournaments in 2014 and 2015 – most recently as part of the surfing festival that also involved workshops on health and hygiene, entrepreneurship and sport as a tool for social inclusion.
Furthermore in 2014, six surfers from Termales travelled to Australia to participate in a sporting, educational and cultural exchange thanks to the Colombian foreign ministry's sports diplomacy programme.
The value of surf
"Could you imagine, if there were no surf club, who would study here?" asks 36-year-old Nestor Tello. "Surfing has helped the kids understand the responsibility they have to study, if nothing else because if they don't do well at school they don't get to surf."
Club de Surf del Chocó has four key values: respect (for each other and the environment), tolerance, honesty and humility. Part of the promotion of these values involves setting strict rules for the use of the boards, which all belong to the club, not individuals.
Some of these rules, which were written by the locals, are wonderfully idiosyncratic. No killing of animals – except fish – perhaps the most remarkable of all. There is a no alcohol, no drugs policy, and an 8pm curfew for being out on the street.
Most importantly, kids who want to surf not only have to attend school, they must behave well and show results. It seems to be working, with attendance at school on the up.
"Some of the kids have been kicked out the club for bad behaviour but we always leave the door open", says Tello. "A lot of them return and do better and one of these boys is now one of the instructors."
The club president hopes the real effects can be seen in the long term.
"I want to see the Pacific coast full of surfers," says Tello. "Surfing is helping to develop discipline, good behaviour and tolerance among the kids and we will have a youth full of love, peace, calmness, success and nature lovers. This is what I dream about."
Seeking sustainability
"Surfing has changed my life," says Tello, who is the mover and shaker behind a lot of the club's activities. "I became a new person when I started surfing, and the sport has let me grow, help my community, and set myself greater goals. The same can be said of a lot of the kids."
Before the surfing club started, "there was nothing to do or keep the kids occupied, no entertainment, and no prospects of travelling".
Colombia's foreign ministry titled its press release about the recent festival "Surfing for Peace". Butta is reluctant to go that far, but the sport certainly provides an alternative path to a community vulnerable to joining illegal groups.
Surfing has also been the hook that has allowed the foundation to improve daily life in the community, with a donation from shipping company Naves Colombia providing nine water filters that allow the communities access to clean water.
One remarkable impact has been on how the locals view themselves. With all the troubles that Chocó faces, people had become used to being known by labels – whether based on race, economic situation or their status as victims of the conflict – lazily slapped on them by the inland-dominated national discourse.
"Our message to the kids is that they are above all really talented sports-people who are trying to create opportunities for themselves," says Butta.
After Analí Gómez' visit in October, there is no shortage of boys and girls dreaming of glory. Both Tello and Butta are convinced that the talent is there for Chocó to one day produce a world champion.
"The kids are understanding that sport requires discipline," says Tello. "If you don't end up being a champion, you have still worked to become a better person and you have something to show off about."
Older surfers are now being encouraged to help coach the younger ones, and Costa Rican instructor Gustavo Corrales gave three of the trainers International Surfing Association coaching certificates at the festival.
"Our goal is to keep the knowledge in the community," says Butta. "In Australia the older surfers are 70-year-old blokes who are really looked up to, but here everyone is a first generation surfer."
The foundation hopes that training instructors will provide job opportunities, while the best surfers could find sponsors that would allow them to compete. And though Chocó undoubtedly needs much more investment and attention from the central government to be revitalised, the hope is that surfing can improve the economic situation.
The ultimate idea is to hand the foundation structure over to the community, "so they can use it as a social business", says Butta. "Obviously it takes a lot of training to get to that point, but making Nestor a director is a first step."
And – unlike Butta – at least Tello knows how to swim.
To donate to Fundación Buen Punto, visit: www.clubdesurfdelchoco.com.
---
By Olly West