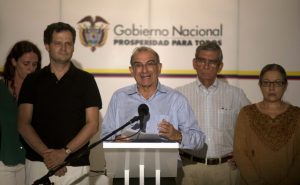 Government and FARC negotiators reach important deal on legal status of final peace accord
---
In a joint statement today (May 12), the Colombian government and FARC negotiators in Havana with the announcement of their decision to contrive "Special Agreement" status for any final peace accord reached between them. The "Special Agreement" is a concept contemplated by article 3 of the 1949 Geneva Conventions that regulate international humanitarian law.
To this end, the government has agreed to make modifications to the Legal Framework for Peace, a temporary set of constitutional reforms that aim to facilitate the negotiated solution to the armed conflict. These modifications will include a transitory constitutional article regulating the legal status of the future peace agreement. Because humanitarian norms have constitutional status in Colombia, the category of "Special Agreement" would shield the agreements reached between the FARC and the government from being amended in the future, thereby guaranteeing their long-term implementation and compliance.
Despite its constitutional character, however, the future "Special Agreement" will not be incorporated into the domestic legal system without congressional approval. The idea that as an international humanitarian treaty, the final agreement would automatically be given constitutional status emerged from a highly controversial petition filed to the Constitutional Court by ex-attorney general Eduardo Montealegre on his final day in office.
While the agreement announced today marks an important step towards concluding point six of the negotiating agenda ("implementation, ratification and verification"), no decision has been made as concerns the mechanism for a referendum. Following today's joint statement, chief government negotiator Humberto de la Calle affirmed that "the Colombian people will have the final say," referring to the plebiscite the government envisages to hold in September 2016. He seemed hopeful, however, that the issue would be resolved soon, as the FARC appear to have "recently softened its opposition" to seeking popular approval of the final peace agreement.
---
By Verokina Hoelker