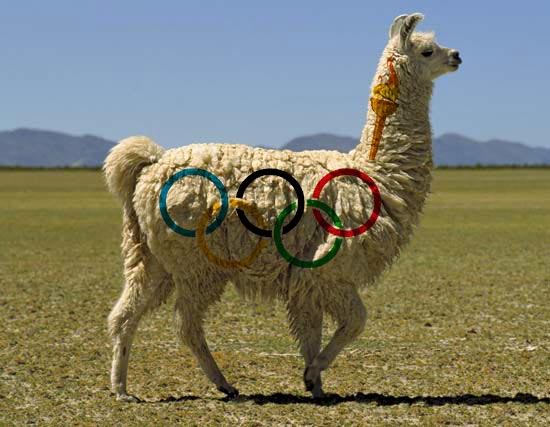 Katie Jacoby journeys the lexical road to Rio with a guide to give you everything you need to go for gold in Spanish
---
We're nearing the 2016 Olympic Games in Rio de Janeiro – the first Olympic Games held in South America – and if you're anything like me, your sporting Spanish could use a little brushing up. This became clear to me recently when I was looking at an infographic in a local magazine about Colombia's history in the Olympics.
I understood everything just fine until I read that in 1972, Helmut Bellingrodt was the first Colombian Olympic medallist, taking silver in tiro al jabalí. Tiro al jabalí? I knew jabalí was pig or boar or warthog, but the word also made me think of the javelin throw. So, throwing a javelin at a pig? Shooting a pig with an arrow? Throwing a pig like a discus? My imagination was on a riotous roll, as I tried to imagine what Olympic sport could feature a little swine scurrying around. 
Several minutes of Googling later, I figured it out: the running target event of shooting. They don't shoot real boars; they're paper boars that slide back and forth at the end of a range. The sport can also be called blanco móvil. And that's when I knew I needed some high-intensity interval training for my own personal linguistic Olympics.
Some of the most popular Olympic sports are below, with the vocabulary used for the different events.
Athletics/track and field – atletismo (relays – relevos, hurdles – vallas, steeplechase – carrera con obstáculos, javelin throw – lanzamiento de jabalina, hammer throw – lanzamiento de martillo, discus throw – lanzamiento de disco, shot putt – lanzamiento de peso/bala,  pole vault – salto con pértiga/garrocha).
Gymnastics – gimnasia (floor exercise – suelo, balance beam – barra de equilibrio, uneven bars – barras asimétricas, vault – salto de potro, rings – anillos).
Swimming – natación (freestyle – estilo libre, backstroke – espalda, breaststroke – pecho/braza, butterfly – mariposa).
Which ones are your favourites?
Now let's take a look at more general vocabulary used when talking about the Olympics. First, how to say the Olympics in Spanish. You can call them los (Juegos) Olímpicos or las Olimpiadas. Los Olímpicos de verano are the Summer Olympics, los Olímpicos de invierno the Winter Olympics, los Juegos Paralímpicos are the Paralympics, and las Olimpiadas Especiales are the Special Olympics.
The host city of the events is the ciudad anfitriona. Necessary infrastructure within the city include the Villa Olímpica, or the Olympic Village, and venues such as stadiums (estadios) and arenas (estadios cubiertos or coliseos).
Other indispensable features of every Olympics are the torch, or la antorcha, with the Olympic flame, or llama olímpica. The Olympic flag with the five rings, or anillos, is another meaningful symbol worldwide. The ceremonias de apertura y clausura, or the opening and closing ceremonies, are also traditions.
The protagonists of the event are, of course, the athletes – los atletas. Those who win medals become medallistas, which has nothing to do with Medallo/Medellín, of course. Many other people are also critical to pulling off the event. There are the coaches, or entrenadores, of the athletes; the officials, or funcionarios; and judges, or jueces. For those watching from home, the sports announcers and commentators, or narradores and comentaristas, become very important as well. And while not strictly a person, let's not forget the cute little mascot – la mascota – which is supposed to help market the games to a younger audience. And of course the sponsors – los patrocinadores – whose deep pockets make it all possible.
While there may exist a language in the world that doesn't have its version of "On your mark, get set, go!", it isn't Spanish. In Spanish you say, en sus marcas, listos, ¡fuera! (or preparados, listos, ¡ya! for the more informal "Ready, set, go!").
That's how many sports start, especially races, but they all end with a medals ceremony. Medals are medallas in Spanish, with first, second, and third place winners receiving oro, plata, and bronce, respectively. These are bestowed on the podio, or podium. To win a race by a nose can be expressed a few ways in Spanish: ganar por una nariz or ganar por una cabeza, or, more colloquially, ganar por un pelo de rana. Win by a (nonexistent) frog's hair. If the sport is won based on scoring from judges, that score is la puntuación in Spanish. Breaking a previous record is romper un récord. (You can also say batir un récord, but it's not as common.) Setting a record is establecer un récord.
Sports a universal language of their own where it's not necessary to know all the right terms to compete or be a spectator and enjoy. Still, it's good to know the basics so you can enjoy the commentators (football commentating, at least, is an art form in Latin America) and talk with your Colombian friends about the events you love. Just like with all areas of Spanish knowledge, let's go for the gold! ¡Vamos Colombia!
---
Katie Jacoby is a Spanish-English translator and has been in Colombia for three years. Feel free to leave her a comment or ideas for future columns on her language website, vocabat.com.