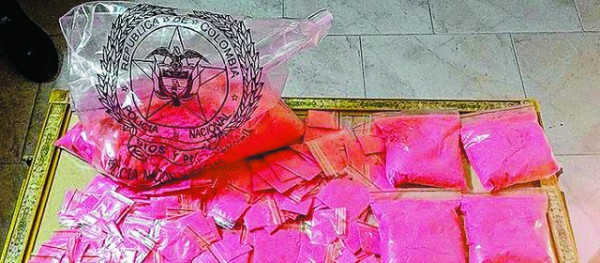 A STIMULANT known as 'pink cocaine' is becoming the new designer drug of choice among club-goers and high society, local media reported last week.
Dealt almost exclusively in nightclubs, 2CB is a synthetic hallucinogenic drug that is allegedly popular with fashion models and beauty queens, a report in Semana said.

Produced by MDMA architect and American chemist Alexander Shulgin in 1974, 2CB can be consumed in pill or powder form – delivering users a high not unlike ecstasy, according to the report.
Since the drug's arrival in Colombia from Germany in 2007, popularity of 2CB has skyrocketed, with more than 9,000 doses seized, according to Colombian police.
Decreases in cocaine production have paved the way for synthetic drug production. And with an estimated street value of 130,000 pesos ($71 USD) per gram –15 times more than a gram of cocaine – the drug presents Colombian criminal groups with a lucrative alter- native, the Semana report said.
Studies into the effects of 2CB are limited, but the US National Center for Toxicological Research states the drug can cause diarrhea, dizziness, vomiting, seizures, depression and severe anxiety.
---
By Madeleine Elder