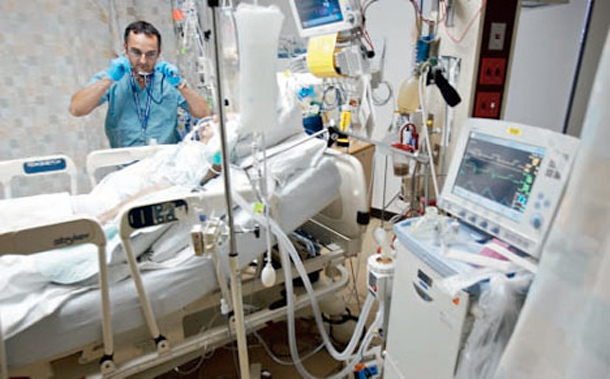 The Ministry of Health's recent euthanasia guidelines have reignited the controversial debate. Marian Romero finds that, almost two decades after the practice was legalised, the Catholic Church still has a defining role to play
---
In Greek mythology, Eos, the goddess of the dawn, asked Zeus to make her lover Tithonus immortal, but she neglected to ask for his eternal youth. Tithonus indeed lived forever, getting increasingly older, sicker, more shrunken and wrinkled.
Living in terrible pain with no hope of getting better can certainly become a kind of torture for many people. Since science is still unable to provide us with longed-for eternal youth and health, overtly prolonging life can be an evil and painful twist, only understood by terminal patients.
Euthanasia is once again presenting itself as a topic up for debate in Colombian society. A taboo practice decriminalised 18 years ago, it is being put back on the table as a valid option for the terminally ill.
In 1997 the Constitutional Court authorised euthanasia in Colombia, declaring that people with terminal illnesses have the right to decide about their death. Doctors would no longer be penalised for helping patients to end their life. Colombia was then seen alongside the Netherlands and Switzerland as a pioneer in the euthanasia debate.
Unfortunately, the guidelines for executing the law were not sufficiently clear. This February, the Constitutional Court demanded that the Health Ministry comply with the ruling to regulate euthanasia in Colombia. On April 20, Health Minister Alejandro Gaviria, signed the ruling, providing guidelines for its undertaking. Opposition to this decision was swift.
Councillors are using all kinds of legal resources to inhibit the judgement, with the arguments against euthanasia including the inability of the Health Ministry to competently regulate the right to die with dignity and the right to conscientious objection.
Attorney General Alejandro Ordoñez, a well-known Catholic, presented a complaint to the State Council to suspend the protocol that regulates euthanasia at the beginning of this month, considering that it violates the Constitution and the law.
Meanwhile, the Catholic Church claims that "euthanasia is a grave offence to the dignity of the patient and inviolability of the fundamental right to life". It has threatened to close major hospitals such as San Ignacio in Bogota and Pablo Tobon Uribe in Medellín, amongst others.
For me, Colombia is a secular country and its destiny should not be ruled by any religious convictions. These steps towards euthanasia are obviously controversial, and cultural resistance remains very strong in Colombia, with debate extremely emotionally-charged. In the past 18 years five bills have been sunk in Congress, mainly provoked by religious viewpoints.
Related: Combating the Colombian corruption crisis
The government's formal steps towards euthanasia are a welcome and humane decision, set to aid and assist those suffering across Colombia. A forward-thinking move in a country where abortion remains illegal and the Catholic Church rules with a heavy hand.
If a decent life is a fundamental right, so too should be a dignified death. If dealing with death becomes an unbearable martyrdom, we should have the right to refuse life-prolonging treatments, which are often expensive and to no avail.
---
Marian Romero is a Colombian journalist who has been living in Bogota for the last 10 years who specialises in urban culture and social development.
The Opinion section is a space for your views and opinions. We've featured articles on all aspects of life in Colombia – from the free trade agreement to bull fighting.
Whether you agree or disagree with anything we've written, we'd love to hear your thoughts – leave a comment below, tweet us at @bogotapost, post on our Facebook page /BogotaPost or email us at

[email protected]

.
The articles in 'Opinion' are commentary, not news reporting. The views expressed in this section are those of the author and do not necessarily reflect those of The Bogota Post or its publishers. The publishers take no responsibility for the accuracy of any information published in this section.