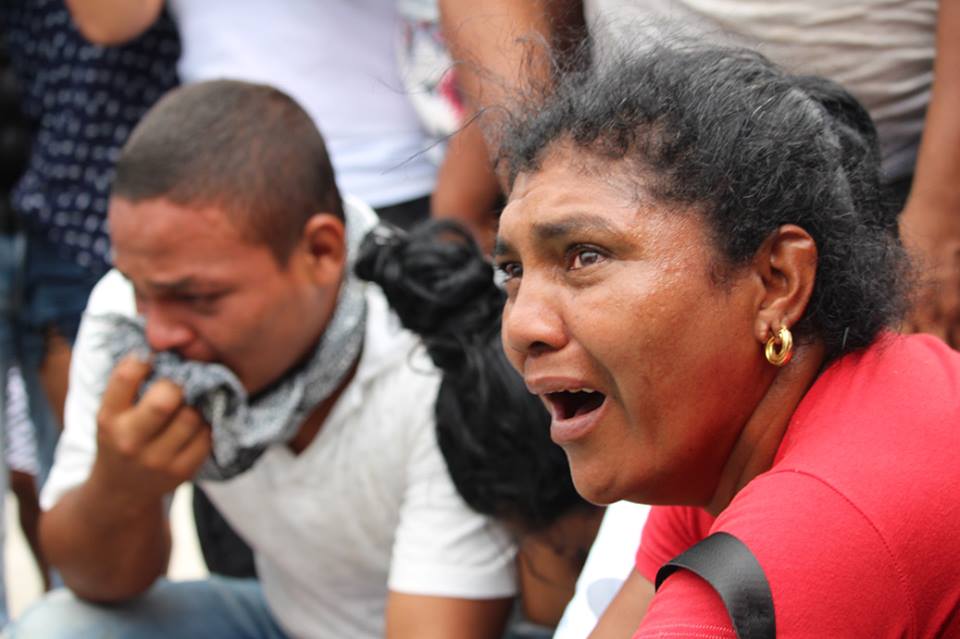 At least six people have been killed and over 50 injured during clashes between farmers and security forces in the southwestern municipality of Tumaco.
---
Versions of the incident that occurred on the morning of October 5 vary considerably with civil society organisations accusing police of opening fire against coca farmers in Tumaco who were protesting the forced eradication of their crops. Authorities are contradicting these statements, claiming the protest was in fact orchestrated by FARC dissidents who opened fire and launched cylinder bombs against the police and military.
President Juan Manuel Santos condemned the violence and announced that authorities are working to investigate the exact circumstances that led to the incident. "It is our priority to uncover what happened, we have preliminary versions that we are still verifying. For the time being, we cannot confirm one or the other," he explained. However, ballistic and forensic experts have determined that the deaths of the farmers were caused by shots fired from a long distance, bringing the official version of short distance cylinder attacks into question.
---
Update: several human rights organisations and a Semana journalist report that the verification mission in Tumaco was under attack by the local police. Nobody got injured. 
Comisión @Justapaz_Col @CPDHColombia @cjyiracastro @asociacionminga @DiPazColombia @SomosDef @Justiciaypazcol fue atacada por policía

— Justicia y Paz (@Justiciaypazcol) 8 October 2017
El ataque ocurrió entre las 2 y 2 20 pm cuando la Misión se acercaban al lugar de la masacre cometida por policia en jurisdicción de Tumaco

— Justicia y Paz (@Justiciaypazcol) 8 October 2017
Este uno de los momentos del ataque policial a defensores y periodistas, hace unas tres horas en lugar de Masacre Tumaco. pic.twitter.com/EOWF7W93D8

— Justicia y Paz (@Justiciaypazcol) 8 October 2017

The police responded with an official communication to the accusations.
Comunicado a la opinión pública… pic.twitter.com/ukZJ7lE2DH

— Policía de Colombia (@PoliciaColombia) 9 October 2017
---
Findings by the Defensoría del Pueblo, the Ombudsman office, support the thesis that police officers are responsible for the farmers' deaths. "Testimonies from eyewitnesses indicate that a counternarcotics police unit participated in the killings of six people" and that "there was no interference of illegal armed groups" at the scene, the Defensoría announced in a report on October 8. Vice president Óscar Naranjo has called for the suspension of the alleged offenders while further legal investigations are underway.
The disputed versions of the incident notwithstanding, national and international human rights organisations have issued strong statements, calling on the Colombian authorities to protect civilians and respond to the demands of local farmers and marginalised communities. Similarly, Voces de Paz – a group of delegates who monitor the legislative implementation of the peace accord – said that the massacre was "not an isolated case."
They stressed that confrontations between the security forces and coca growers have escalated in recent times and urged for a speedier execution of security and agrarian sector reforms. On his twitter account, FARC leader Iván Márquez demanded that police and military "stop the disproportionate use of force," and Polo Democrático senator Iván Cepeda asked for an independent verification commission to investigate the incident.
Related: Coca to cacao – Vichada's transition to legal crops
Tumaco is one of Colombia's biggest coca growing regions: according to official figures, the area under coca cultivation measures almost 17,000 hectares. Even though the peace agreement between the Colombian government and the FARC envisages incentives for farmers who agree to participate in substitution programs, local organisations have criticised their inefficiency and slow implementation. Many also complain that crop eradication is often forced on coca growers, despite the fact that the programs are designed to promote voluntary replacement of the plants.
Many human rights organisations have pointed to U.S. drug policy in Colombia as part of the problem. Instead of offering a constructive solution to illegal crop cultivation, it has pressured the Colombian security forces to show quick results and resort to violence in their eradication efforts. U.S. military and counternarcotics aid package Plan Colombia has had devastating effects on civilians and done little to reduce illicit cultivation in the long term.
Although former president Obama had announced a renewed bilateral framework for supporting peace in Colombia, his successor Donald Trump recently threatened to decertify Colombia as a drug war ally if it failed to step up its coca eradication programs. In the wake of the Tumaco massacre, the non-governmental Washington Office on Latin America published a statement urging "U.S. officials to tone down the rhetoric" and "focus on providing Colombia with the funding and tools it needs to implement the peace accord in coca-growing areas."
The events are yet another reminder of the numerous challenges Colombia faces in its post-conflict phase. Harvest for coca has risen to record levels in recent years and continues to be a powerful and profitable market, especially in rural and impoverished regions that offer little or no sustainable alternatives. Compounding this scenario is the increased presence of dissident insurgents and criminal gangs since the FARC's retreat from their strongholds.
---