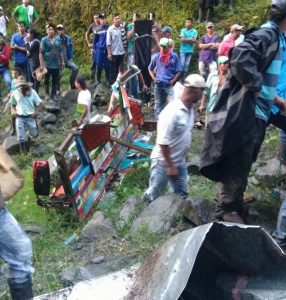 An accident involving a large chiva bus, near Sabanalarga in the Antioquia department, has shocked the country and brought grief to the local community.
The deadly accident occurred at the heart of the 'coffee axis' region, in the road connecting El Tambo and El Oro rural districts (or veredas), about a three-hour drive north of Medellín and one hour away from the town of Sabanalarga.
At least 50 passengers were on board, although more may have been unaccounted for. At least 14 people—including two young girls—died and 36 more were injured in the accident, according to an official press release issued by the Administrative Department of the Disaster Relief, Attention and Prevention System (DAPARD).
30 firemen trucks, five ambulances, and a rescue unit that included two Colombian Air Force helicopters collaborated with the police and have been working non-stop to rescue victims, reported El Tiempo. Most of the victims were transported to medical centers in Sabanlarga and Santa Fe de Antioquia, while a few critical patients required helicopter transportation to major hospitals in Medellín.
Around 3pm Sunday, the chiva bus driver was forced to swerve to avoid an incoming motorcycle on the narrow mountain road, resulting in the large vehicle driving off the edge onto a steep downhill slope and crashing at the bottom, stated César Cuadros, Mayor of Sabanalarga to El Colombiano.
The Mayor also shared that the bus was crowded with farmers from neighboring areas returning home after a hard day's work in coffee plantations that are currently in harvest season.
The full list of deceased and injured can be found here.
Images courtesy of DAPARD.
Chivas are colorful repurposed buses known for their use as mobile party vehicles in touristy urban areas. Their most common use is for transportation of people, produce and animals in rural areas of the Colombian Andes and are often the sole means of transportation in isolated areas.
The precarious conditions of both dirt mountain roads and buses in remote mountain areas make these vehicles prone to accidents. In August, a chiva bus crashed in the Huila department, leaving 15 people injured. Furthermore, another similar accident occurred in May in the Caldas department.