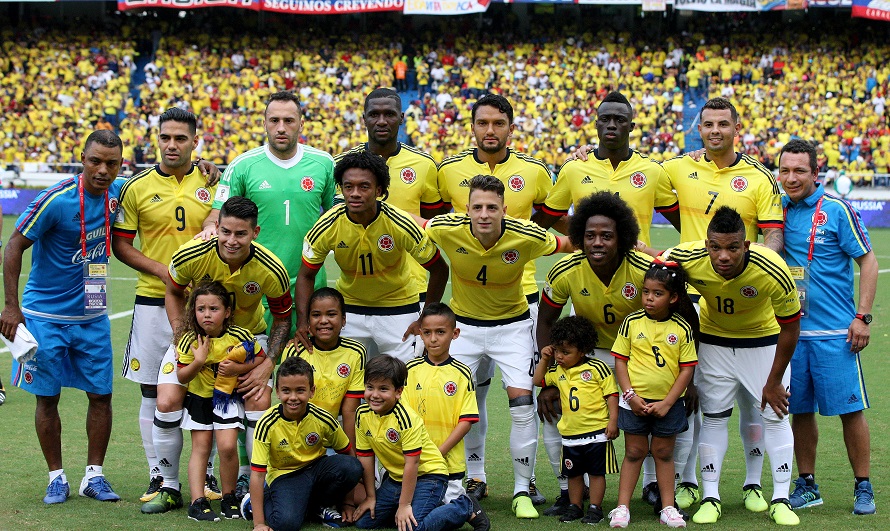 Colombia vs Peru is the last round of the qualification for the World Cup in Russia 2018. Lima is the stage this Tuesday at 6.30pm for the all-deciding game.
---
Last Thursday Colombia were within four minutes of qualification for the World Cup, before David Ospina and Cristian Zapata timed a set piece from the halfway line completely wrong and Paraguay went on to hold off Colombia's World Cup dreams for the moment, but there is another chance.
Latest: 1-1 draw vs Peru enough for Colombia to qualify for World Cup 2018!
At 6.30pm this Tuesday, Colombia play the last qualifier and a victory will still bring them to Russia. The job seems a bit harder away against fellow candidate for World Cup qualification Peru, but the history is in Colombia's favour. The last time Los Cafeteros lost in Peru was in qualification for the World Cup in 1982 in Mexico, the last time Peru went to the finals. Since then, Colombia have recorded four victories and two draws in Lima.
In previous qualifiers, Barranquilla in particular was the stronghold for Los Cafeteros. But this cycle, almost as much were collected away as at home, showing that Colombia has every chance of claiming a victory here. Peru have won two of their last three games and drew in Argentina, however, so can't be underestimated.
Colombia will enter the ring without Cristián Zapata. The experienced centre back, who didn't play his best game for Colombia against Paraguay last week, picked up a yellow card and is suspended. That means that Davinson Sánchez will probably be accompanied in the centre of defence by Oscar Murillo, currently starting for Pachuca from Mexico.
Radamel Falcao, in roaring form, and James Rodríguez will be leading the team up front, while Yimmi Chará could get a start on the wing after his brilliant assist versus Paraguay.
Related: Colombia's history at the World Cup football
Peru revolve around former Bayern Munich striker Paolo Guerrero. Guerrero has been the star of the team for almost a decade and at 33 years old he keeps getting more important for Peru.
Colombia's chances of qualification for the World Cup in Russia are still given at about 65% by ESPN football statisticians and a victory would leave no doubt, as Colombia would qualify directly for Russia 2018 regardless of other results. A draw still gives Colombia plenty of chances, but makes them dependent on results elsewhere and calculations become tricky.
Related: Colombia puts World Cup qualification in Jeopardy vs Paraguay
If Colombia vs Peru ends in a draw there are several scenarios possible. Paraguay recording a win with seven goals or more at home to Venezuela, Argentina beating Ecuador in Quito and Chile holding Brazil to a draw in Sao Paulo means that Colombia can forget about Russia completely.
If one team out of Paraguay, Chile or Argentina doesn't get the previously mentioned results, Colombia is in the playoffs versus New Zealand for a place in Russia. If only one of the three results from Paraguay, Chile and Argentina happens, a draw is enough for Colombia to scrape direct qualification to Russia.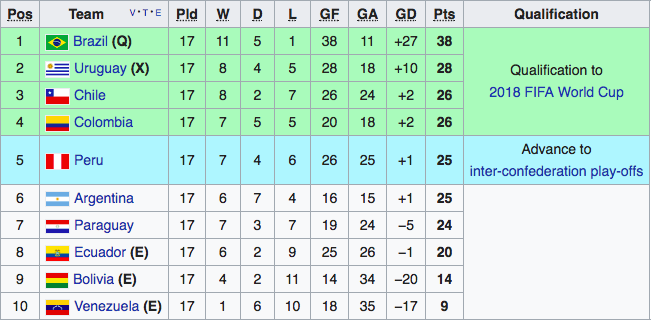 Even with a defeat versus Peru, Colombia could still qualify, but the chances are extremely slim as Paraguay can't win vs Venezuela, Argentina has to be defeated and Chile needs to lose by a bigger margin against Brazil than Colombia against Peru. Colombia are into the playoff versus New Zealand if only one of Paraguay, Argentina and Chile do better than that.
Can Colombia secure their second World Cup qualification in a row or will Los Cafeteros crash out in Lima? Tuesday 6.30pm Colombia vs Peru.
---