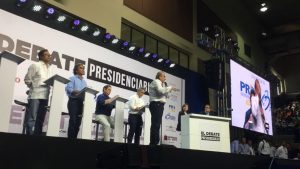 With raucous crowds, catcalls and jeers of over 3,000 students interrupting many of the answers, it was fitting that the second presidential debate took place at a venue called El Coliseo, an auditorium at Universidad del Norte in Barranquilla. Unlike the first lacklustre affair on Tuesday, the Debate Caribe had the heat, fire and bite that only la costa can provide. We grade the five remaining candidates on their performances last night.
Iván Duque – Centro Democrático
After a polished performance in the first debate, #DebateCaribe was a chance for Duque to enter the lion's den and see if he could come out of it unscathed, particularly when he was ganged up on by the other candidates when they were given the chance to question him directly.
His case for coherence won him the first boos of the night, though he was able to win enough support from the crowd on his firm response on the impunity of FARC members in Colombia. His strong answers on employment, the economy and the Venezuelan crisis mirrored much of what he had said before and is likely to endear him to his solid base of voters. This election is still Duque's to lose, but the heat of the crowd in Caribe was enough to make him sweat.
Grade: A-
Gustavo Petro – Colombiana Humana
Barranquilla being a stronghold for Petro, a university in the city was always going to give him the warmest reception, interrupting his opening statements with boisterous cheers. He set the debate on fire after scoring the early jabs on Duque on corruption, confronting the Centro Democrático on whether he would have left the party if he had learned of the false positives case.
Petro had his moment in Caribe. Chilled as a vallenato singer and heated as an evangelical when he needed to be. If he starts gaining ground on frontrunner Duque over the next two months, he may just have El Coliseo to thank for having helped him ignite his campaign.
Grade: A
Sergio Fajardo – Alianza Verde
Fajardo ditched the cuddly blue pullover from the first debate and rolled up his sleeves for the second. He came out swinging but landed few blows on either Petro or Duque. Scored well for his impassioned vow to tackle corruption and crony capitalism but, in a debate that was all fire and heat, former mathematician Fajardo miscalculated the moment by appearing too cool. He had enough of the crowd on his side to continue airing his more measured, moderate policies but left it unclear as to how he was truly going to challenge the leading contenders for the Colombian presidency.
Grade: B
Germán Vargas Lleras – Partido Cambio Radical
Choosing to sit during most of the event when the others chose to stand, Vargas Lleras hoped that he'd win local admirers given the many infrastructure projects in Caribe that he had been a part of during his tenure as Vice President under President Santos.
On the contrary, his continued hardline responses won him few friends, particularly on questions relating to the Venezuelan crisis and the peace process. After 2 hours and 45 minutes, Vargas Lleras didn't wilt, but he didn't bloom either.
Grade: C
Humberto de la Calle – Partido Liberal
Having missed the first debate when adverse weather grounded his plane, De la Calle was making up for lost time when he arrived on the Caribbean coast.  He was more fiery than Fajardo when needed , particularly speaking on the crisis in Venezuela, though was unlikely to score wins on themes like corruption when his own party has been accused of it.
De la Calle will be glad to have finally had his voice heard, even if to take his mind off the bigger problem that is out of his hands; he's still waiting on the National Electoral Commission to rule on the legality of a possible alliance with Fajardo.
Grade: C-