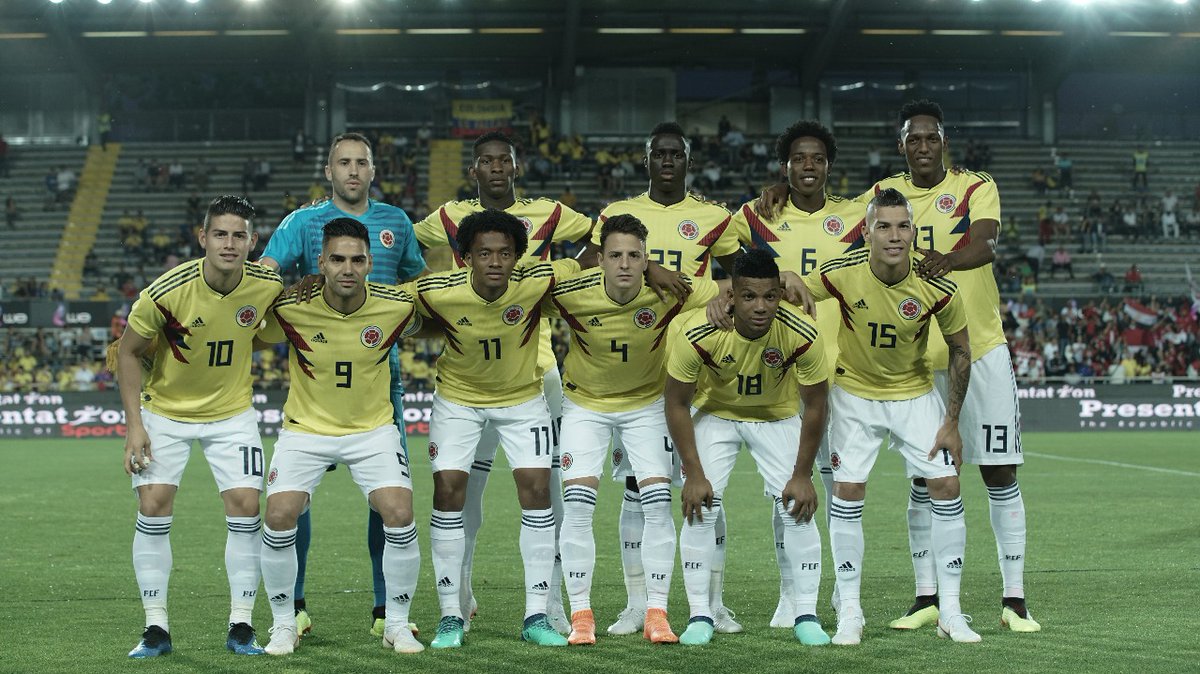 Ahead of their first World Cup match, we take a look at Colombia's 2018 World Cup squad with a full rundown of all 23 players who will be hoping to shine in Russia 2018
---
GOALKEEPERS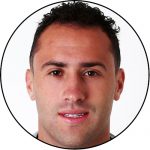 1/ David Ospina (David Ospina Ramírez)
Caps: 86  Goals: 0
Debut: February 7, 2007
Age: 29 from Itagüí, Antioquia
Club: Arsenal, England
David Ospina is one of the biggest goalkeeping talents in the history of Colombian football. He became the country's undisputed number one goalkeeper at 21 years old and has been a key player ever since. Despite the structural lack of gametime at Arsenal, Ospina has almost always been a stand out player in Colombia and is the most capped Colombian player in Russia.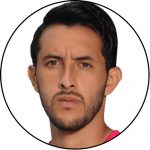 12/ Camilo Vargas (Camilo Andrés Vargas Gil)
Caps: 5   Goals: 0
Debut: October 10, 2014
Age: 29 from Bogotá
Club: Deportivo Cali
Camilo Vargas has been the country's second-choice goalkeeper since the last World Cup. Coming through the Santa Fe ranks, Vargas' only spell abroad in Argentina was a disaster and he returned to Colombia. Now back at Deportivo Cali he is their favoured goalkeeper once again. Unless something happens to Ospina he isn't expected to feature this tournament.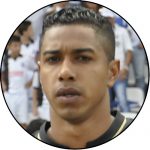 22/ José Cuadrado (José Fernando Cuadrado)
Caps: 1  Goals: 0
Debut: November 14, 2017
Age: 33 from Valledupar, Cesar
Club: Once Caldas
José Cuadrado has always been a steady goalkeeper in the Colombian league, but his call up for the national team is somewhat surprising. He's been the top goalkeeper at Once Caldas for years, but he didn't have the best of seasons. And, as third choice in goal, he is unlikely to see any time on the pitch in this year's World Cup.
---
DEFENDERS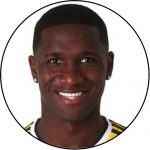 2/ Cristián Zapata (Cristián Eduardo Zapata Valencia)
Caps: 55  Goals: 2
Debut: May 29, 2008
Age 31, from Padilla, Cauca
Club: AC Milan, Italy
Zapata's position in the squad was in doubt until the last minute as he is shaking off a thigh injury – indeed his tournament fitness is still questionable. He is the most experienced defender on the national team and when fit has been a regular. But even when not up to par he is assured a spot in the squad, fighting with the two young centre backs for a place in the starting line up.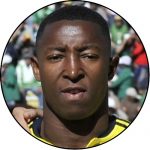 3/ Oscar Murillo (Oscar Fabián Murillo Murillo)
Caps: 13  Goals: 0
Debut: March 24, 2016
Age: 30, from Cali, Valle de Cauca
Club: Pachuca, Mexico
Oscar Murillo has been a dead cert for Pékerman's Colombia since early 2016, but the 30-year-old centre back only just managed to overcome a muscle injury and he hasn't featured since March. Nevertheless, Murillo is fit in time to be part of the squad that travels to Russia. He is not expected to start many games, but he is a reliable back-up.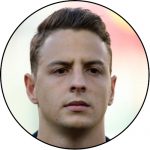 4/ Santiago Arias (Santiago Arias Naranjo)
Caps: 41  Goals: 0
Debut: October 16, 2013
Age: 26, from Medellín, Antioquia
Club: PSV Eindhoven, the Netherlands
A regular on the right back position since after the World Cup 2014, Arias has always been a reliable force. His darting runs down the right and endless work ethic are his strengths. Arias will be a sure starter in Russia. The fullback comes to the World Cup in good form after being named player of the season at Dutch champions PSV Eindhoven.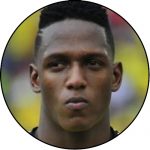 13/ Yerry Mina (Yerry Fernando Mina González)
Caps: 12  Goals: 3
Debut: June 8, 2016
Age: 23, from Guachené, Cauca
Club: Barcelona, Spain
The giant defender made his mark in Colombian football because of his skills in the air and his goalscoring capability. The centre back made a move to Barcelona in January, but hasn't played much since. However, in a Colombian defence that is otherwise very vulnerable in the air, Mina – who would add some height – seems to be a sure starter.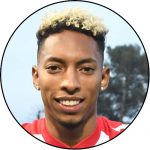 17/ Johan Mojica (Johan Andrés Mojica Palacio)
Caps: 4  Goals: 1
Debut: March 26, 2015
Age: 25, from Cali, Valle de Cauca
Club: Girona, Spain
Johan Mojica is projected to be the starting left back in Russia after injury forced Frank Fabra out. The defender is coming off a decent season at newly promoted Girona, after playing for several years in the second division in Spain. He is a utility player who doubles as left midfielder and left winger, with his strength lying in the attacking part of the game.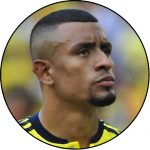 18/ Farid Díaz (Farid Alfonso Díaz Rhenals)
Caps: 14  Goals: 0
Debut: March 24, 2016
Age: 34, from Codazzi, Cesar
Club: Olimpia, Paraguay
Late bloomer Farid Díaz was the last entry to the squad after Frank Fabra got injured. Díaz was part of the spectacular Atlético Nacional team that won the Copa Libertadores when he first got called up aged 32. He is known as a steady and focussed left back who puts the emphasis on defending but adds little to the team going forward.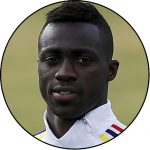 23/ Dávinson Sánchez (Dávinson Sánchez Mina)
Caps: 9  Goals: 0
Debut: November 15, 2016
Age: 22 (21 until June 12), from Caloto, Cauca
Club: Tottenham Hotspur, England
Sánchez had his breakthrough at Atlético Nacional in 2016, where he won the Copa Libertadores in his first year. He's adjusted to the Premier League at Tottenham Hotspur this year without blinking. Sánchez combines strength with pace, but can be a bit wild sometimes. He is fighting with Mina and Zapata for a spot in the starting lineup.
---
MIDFIELDERS
5/ Wilmar Barrios (Wilmar Enrique Barrios Terán)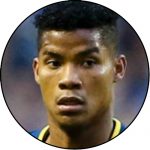 Caps: 8  Goals 0
Debut: September 7, 2016
Age: 24, from Cartagena, Bolívar
Club: Boca Juniors, Argentina
Barrios has had a spectacular year in Argentina, considered the best defensive midfielder in the league and he is now also a regular in the Colombian squad. The midfielder has a reputation for positioning himself well, combined with fiercely chasing down the ball. Barrios starts this World Cup behind Carlos Sánchez in the pecking order. However he will be brought on when a lead needs to be defended.
6/ Carlos Sánchez (Carlos Alberto Sánchez Moreno)
Caps: 84  Goals: 0
Debut: May 9, 2007
Age: 32, from Quibdó, Chocó
Club: Espanyol, Spain
Sánchez is Pékerman's number one choice as defensive midfielder. 'La roca' has Wilmar Barrios breathing down his neck but the experienced DM is the lock on the door of the midfield. Sánchez doesn't have much to offer in the attack, but is great in organising the centre line and dismantling the opponents offensive midfield. He doesn't shy away from a hard tackle, either.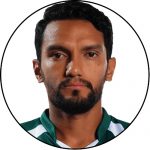 8/ Abel Aguilar (Abel Enrique Aguilar Tapias)
Caps: 70  Goals: 7
Debut: July 7, 2004
Age 33, from Bogotá
Club: Deportivo Cali
Aguilar's call-up has been rather surprising, he hasn't been an undisputed starter for club side Deportivo Cali, but Pékerman sees him as a leader. The central midfielder is the connection between defence and attack but is somewhat slow. Aguilar is expected to start but he faces fierce competition from Mateus Uribe for his spot in the starting line up.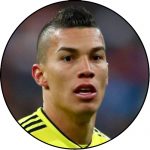 15/ Mateus Uribe (Andrés Mateus Uribe Villa)
Caps: 9  Goals: 0
Debut: January 26, 2017
Age: 27, from Medellín, Antioquia
Club: América, Mexico
Uribe was one of the best players in the Mexican league last year. The dynamic central midfielder scores easily and brings quality on the ball into the side but 18 sending offs in his professional career suggest he will have to control his frustration. The polyfunctional player is expected to get plenty of gametime as midfielder, winger or even as wingback.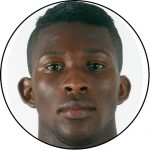 16/ Jefferson Lerma (Jefferson Andrés Lerma Sólis)
Caps: 5  Goals: 0
Debut: November 10, 2017
Age: 23, from El Cerrito, Valle de Cauca
Club: Levante, Spain
Lerma was still a blank page when Levante picked him up from Atlético Huila, but his star rose quickly and this year he was one of the best players from the Spanish top division side. The box-to-box midfielder who doubles as right back is not expected to get much game time as he is the backup for both positions, but could be brought on later in to close a game.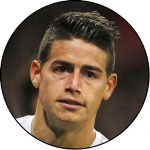 10/ James Rodríguez (James David Rodríguez Rubio)
Caps: 63  Goals: 21
Debut: October 11, 2011
Age: 26, from Cúcuta, Norte de Santander
Club: Bayern Munich, Germany
James is the absolute star of this team. At the 2014 World Cup, the playmaker was top goalscorer and scored the best goal of the tournament. His quality has not waned since then. He was not getting enough playing time at Real Madrid so he left for Bayern Munich last year where he played a very solid season. James is the man who makes Colombia tick.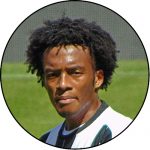 11/ Juan Guillermo Cuadrado (Juan Guillermo Cuadrado Bello)
Caps 70  Goals: 7
Debut: September 8, 2010
Age: 30, Necoclí, Antioquia
Club: Juventus, Italy
Cuadrado is always Pékerman's number one choice for the right wing position. The skilled winger who is always looking to win fouls was out injured for most of 2018, but he has been back since April and should be fresh for the World Cup. When in form he can cause trouble for any defender, but when his take ons are ineffective he can be a disaster for his team, losing every ball.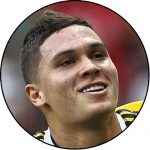 20/ Juan Fernando Quintero (Juan Fernando Quintero Paniagua)
Caps: 15  Goals: 2
Debut: October 16, 2012
Age: 25, from Medellín, Antioquia
Club: River Plate, Argentina
Quintero's career has been riddled with ups and downs. Once dubbed as one of the biggest Colombian talents in history, he didn't live up to his promise and disappeared from the international stage. This year he is back in form at River Plate and the attacking midfielder with a golden left foot is included as backup for James or when extra creativity is needed.
---
ATTACKERS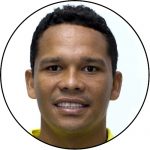 7/ Carlos Bacca (Carlos Arturo Bacca Ahumada)
Caps: 45  Goals: 14
Debut: August 11, 2010
Age: 31, from Puerto Colombia, Atlántico
Club: Villarreal, Spain
The striker has never been an undisputed first choice for the national team, but a good finish to the season with Villarreal means he will be present again at the World Cup. It is between Borja and him as to who will be the first backup for Falcao, though Bacca was also played on the left wing in a recent friendly and could benefit from Muriel's slump in form.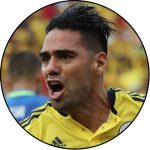 9/ Radamel Falcao (Radamel Falcao García)
Caps: 73  Goals: 29
Debut: February 7, 2007
Age: 32, from Santa Marta, Magdalena
Club: AS Monaco, France
Falcao will play his first World Cup after a horrible knee injury kept him out of Brazil 2014. The deadly striker was dropped from the national team for a while, but came back and is the clear number one striker. His fitness is the biggest question mark as games follow on quickly, but the all time top goalscorer for Colombia is expected to have Pékerman's full confidence.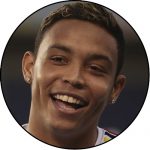 14/ Luis Muriel (Luis Fernando Muriel Fruto)
Caps: 18  Goals: 2
Debut: June 10, 2012
Age: 27, from Santo Tomás, Atlántico
Club: Sevilla, Spain
Muriel is one of the doubts of this tournament, as the versatile player is not coming off a great season at Sevilla. However, he seems to be the player set to cover the left wing. He could also play on the right and as centre forward, but he has got much more competition there. Muriel is quick and good on the ball, but his lack of consistency could cost him.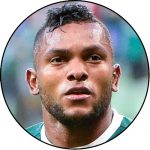 19/ Miguel Borja (Miguel Ángel Borja Hernández)
Caps: 8  Goals: 2
Debut: January 25, 2017
Age: 25, from Tierralta, Córdoba
Club: Palmeiras, Brazil
Borja had a brilliant year in Colombia in 2016 in which he smashed all the records with 39 goals in one year, scored five times in four Copa Libertadores games for winning Atlético Nacional, but failed to capitalise on that form. This tournament he is one of the backups for Falcao, but will surely be used as an impact sub because when he is confident, he is lethal in front of the goal.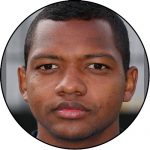 21/ José Izquierdo (José Heriberto Izquierdo Mena)
Caps: 5  Goals: 0
Debut: June 7, 2017
Age: 25, from Pereira, Risaralda
Club: Brighton & Hove Albion, England
The inverted left winger arrived in England after becoming player of the season in Belgium and won his place in the team immediately. The pacey and strong winger is specialised in the 'Robben', cutting in and finding the far corner – though he uses his right foot. It doesn't fit with the system Pékerman usually plays, but he will surely get game time as an impact sub.
---