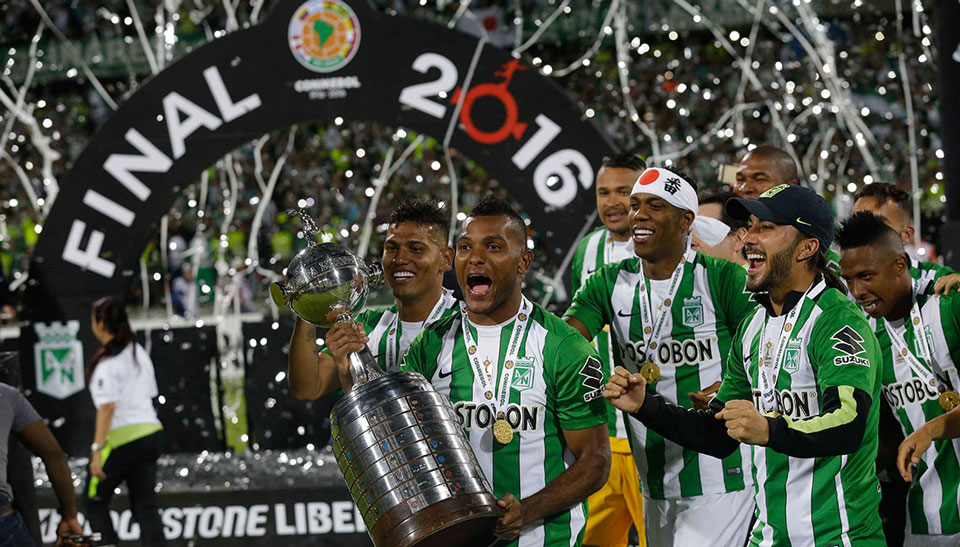 Colombian football experienced a successful year in 2016. Medellín side Atlético Nacional sits high up on the list of favourites for this season's continental tournament after winning the Copa Libertadores trophy and reaching the final of the Copa Sudamericana. The title for the latter was handed to Brazilian side Chapecoense after several members of their team died in a plane crash on their way to play in Medellín. 
A rebuilt Chapecoense will get another chance to play Nacional in the Recops Sudamericana, played between the winner of the Libertadores and Sudamericana. Dates are yet to be confirmed, but it is scheduled to take place in August.
With Nacional, Independiente Medellín, Independiente Santa Fe, Millonarios and Junior de Barranquilla, Colombia has five teams in the Copa Libertadores. Junior and Millonarios start in the second qualification round at the end of this month. Medellín, Santa Fe and Nacional qualified straight for the group stages starting in March. The new tournament setup will run the entire year.
Unlike in past years, clubs cannot enter both Copa Libertadores and Sudamericana. Deportes Tolima, Deportivo Cali, Patriotas and Rionegro Águilas have taken advantage of the new situation, qualifying for the Copa Sudamericana that kicks off at the end of February with the final to be played in November.
Before the domestic league starts, the new season will kick off with the Superliga between the two champions of 2016. On January 21, Medellín host the first leg of the competition against Santa Fe, the return fixture taking place in Bogotá on January 29.
In the first weekend of February, the Liga Águila kicks off and all eyes will be on América de Cali. Las escarlatas are back in the top division after a five year struggle in the second division. The third most decorated club in Colombia has no time to settle in, as they will have to fight off relegation in their first years in the top level.
In the next edition, when the transfer market closes, The Bogotá Post will detail what is sure to be another exciting season.
Colombia and Brazil play charity game for Chapecoense victims
The Brazilian Football Federation confirmed a friendly match between Colombia and Brazil. The game has been organised to raise funds for the families of the victims of the plane crash that claimed the lives of 71 people, including 19 Chapecoense players and almost the entire technical staff. The charity match will take place on January 25 in the Olympic Stadium in Rio de Janeiro.
---
By Freek Huigen