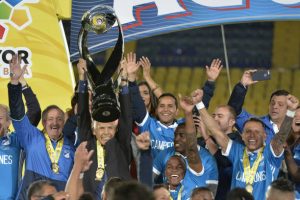 Bogota-based football club Millionarios have won the Colombian league title on sunday at the iconic El Chapin stadium in Bogota following a 2-2 draw. The result meant that Millionarios won 3-2 on aggregate following a narrow 1-0 win in the first leg. The league triumph is their 15th in history and the first one since 2012.   
Millionarios will be hoping that their recent victory will symbolize that a fallen giant is resurfacing. The club has an illustrious history with a fanbase unrivaled by most teams in Colombia.
Only bitter Medellin rivals Atletico Nacional can boast more league titles. The victory on Sunday however has put Millionarios within one league title of levelling with Atletico Nacional's record who have 16 league titles in total.  
"Millos" enjoyed their finest times in the early 1950's when they had a strong presence of Argentinian players which gave them the nickname "Ballet Azul". They played some beautiful football that was easy on the eye and was perceived by many as the best team in the world at the time.
They had an influx of a number of Argentinian players, most notably Alfredo di Stefano, who went on to become a Real Madrid legend. Between 1949 and 1964 they won an incredible nine league titles.
Millionarios also had a successful spell between 1987 and 1988 when they won back to back league titles. At the time the club faced a lot of controversy due to the fact that they were owned by drug lord and member of the infamous Medellin Cartel, Gonzalo Rodriguez Gacha.
Recent times have been quite difficult for Millionarios though who have only managed to win one league title since 1988. That was, at least, until last night.
Since 1988 Millionarios have struggled and only managed to win one league title in 2012 until Sunday night's triumph.
Sunday's game wrapped up the Colombian league campaign which has been exciting year though, it was one to forget for Colombia's most successful team and holders of the league title, Atletico Nacional, who were knocked out in the quarter finals of the playoffs.