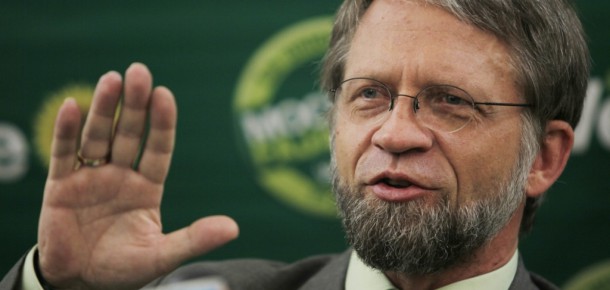 25 years after Senator Antanus Mockus famously pulled down his pants and mooned the audience at Universidad Nacional, the former Mayor of Bogotá has repeated his cheeky protest in front of the Colombian congress during its inaugural session.
This time Mockus was protesting the disrespect that had been shown to outgoing Congress President Efraín Cepeda as he was giving his farewell address. Mockus himself referred to the act more as a necessary intervention that was "pedagogical" in an attempt to teach members of the Colombian legislature manners.
This happened today on the beginning of Colombia's new congressional term.@AntanasMockus is a newly elected senator.
His gesture shows what his thoughts are of many of his fellow corrupt congressmen.
Tell me: HOW NOT TO LOVE THIS GUY?#MockusChallenge #Mockus #MockusEresGrande pic.twitter.com/4odMGlT6TA

— Salcedo (@patonejotortuga) 21 July 2018
 Mockus will now face the House's Ethics Commision, a body that will determine whether the Senator contravened "public morality" as per a new ethics rule introduced last year. The punishment for his act could mean he would be suspended from anywhere between 10 to 180 days.
Remarkably, the Senator would not be in this position if he had been more aware of the procedural rules of Congress. If Mockus had chosen to bare his derriere prior to his swearing in, he would not have had to face the wrath of the Ethics Commission. Which means that if he had chosen to moon President Juan Manuel Santos during his historic address as FARC former combatants were welcomed into Congress for the first time, Mockus might have gotten away with it.    
https://www.youtube.com/watch?v=8aB4iTA9iZM&has_verified=1
Antanas Mockus, then rector of Universidad Nacional, moons the crowd in 1993.
Mockus is known for his outspoken defence of liberal values and these are the characteristics that continue to endear him to his many supporters. Many on Twitter have joined in and adopted the protest in solidarity with Mockus under the hashtag #MockusChallenge.
In addition to having been mayor of the Colombian capital twice, Mockus also ran for President in 2010, with his running mate Sergio Fajardo, but was unable to beat eventual winner Santos. In March of this year he was voted in as Senator with the second-highest vote count with over half a million votes.
Mockus, whose full last name Mockus Šivickas derives from his Lithuanian roots, had threatened last year over a video on Twitter that his pants would find themselves dropped every day while he was senator; a promise he is now making good on. With a Congress now stacked with former presidents known for their military excess; a former member of the M19 rebel group; and former combatants of the FARC, Colombia's legislature is now as divided as ever. If Mockus' defiant act of "drop trou" is anything to go by, civility may not be the order of the day in the years to come.