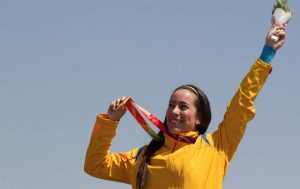 We take a look at some of the remaining Colombian athletes in Rio and see what events they are taking part in and what their medal chances are
---
The Olympic Games are underway with a somewhat disappointing first week for Colombia's athletes being put behind them with gold for Óscar Figueora in weightlifting and silver for judoka Yuri Alvear in her weight class.
This week Colombia has the triple jump favourite, Catherine Ibargüen, along with Mariana Pajón going for gold in their respective events.
Colombia is also well represented in cycling, taekwondo, wrestling and BMX. Take a look at our Colombian athletes profiles and see who is in for a good chance in coming away with a medal.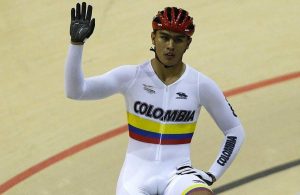 Fabian Puerta
Track cycling
Fabian Puerta will be competing in two disciplines, having raced the keirin in London four years ago. He won golds in the keirin and one-kilometre time trial at the 2013 Pan American Games. However, he's an outside medal chance as the men's keirin looks set to be a pretty fiercely-contested event, with favourites Joachim Eilers (Germany), Ed Dawkins (New Zealand), Francois Pervis (France) and Jason Kenny (Great Britain). Plus, Puerta's wife, Juliana Gaviria – the elder sister of teammate Fernando Gaviria – who will also be competing.
Track cycling men's sprint (August 12 – 13); Men's keirin (August 16)`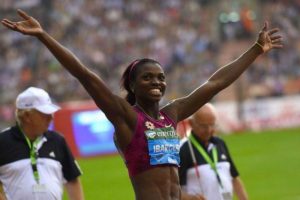 Caterine Ibargüen
Triple Jump
London 2012 silver medallist
The 32-year-old from Antioquia comes to the Olympic Games as the red-hot favourite for a coveted gold medal in the triple jump. Since her silver medal in 2012, Ibargüen has won almost every international competition she has taken part in, including two World Championships and three Diamond League series. She will even have a shot at the 21-year-old world record that stands at 15.50m – but her priority is the Olympic gold that is no more than a hop, a skip and a jump away.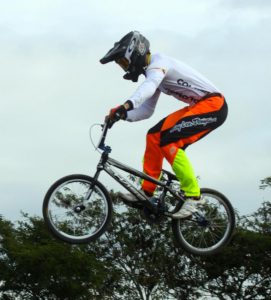 Carlos Ramírez
Men's BMX
BMX's new kid on the block is Carlos Ramírez; in fact the 21-year-old performed better in the World Cup series than his compatriot, Oquendo. He suffered an unfortunate crash in the final of the World Championship in Medellín, but did manage a bronze medal at the World Cup in Papendal, the Netherlands. Ramírez certainly is a man to watch for Olympic silverware.
Men's BMX (August 17 – 19, 11am – 2pm)
Fernando Gaviria
Track Cycling (Omnium)
At just 21, Fernando Gaviria is a star in the making: he has already had considerable success in both road and track cycling. Boasting two omnium world titles, Gaviria has two serious contenders for the gold: Britain's Mark Cavendish, who has yet to win Olympic gold in an otherwise glittering career and Italian Elia Viviani. Gaviria's respected team manager at Etixx-Quick-Step, Patrick Lefevere, has professed a "strong admiration" for the young rider, who looks certain to be a force for years to come.
Track cycling men's omnium discipline (August 14 and 15, 8am and 6pm)
Oscar Muñoz
Taekwondo
London 2012 bronze medallist 
From the department of Cesar, 22-year-old Muñoz is one of just three Costeños chosen to compete in Rio. As Colombia's youngest medallist at London 2012 with his bronze in the 58kg taekwondo competition, Muñoz heads to Brazil in good form once more, with a silver medal in this year's Pan American Championships in Queretaro, México. However, he will have his work cut out if he is to win a medal this time in a men's field containing eight former Olympic gold medalists.
Taekwondo, Men's 58 kg (August 17, 7am – 1pm) 
Mariana Pajón
Women's BMX
London 2012 gold medallist
The only Colombian athlete heading to Rio with a gold medal already on her palmares is Mariana Pajón. The 24-year-old athlete is the woman to beat in the BMX. Pajón is a three-time world champion and reigning Olympic Champion. She has seen her dominance slip slightly over the past year, but should still be considered the overwhelming favourite for a gold medal.
Women's BMX (August 17 and 19, 11am – 2pm)
Jackeline Rentería
Wrestling
Beijing 2008 and London 2012 bronze medallist
This is the third Games for the 30-year-old wrestler from Valle de Cauca who, with bronze medals in Beijing and London, is the first Colombian athlete to win a medal at two separate Games. She's hoping to get more than bronze this time, although she's only just recovered from a broken jaw. Rentería will have strong competition for the gold from Japan's formidable veteran fighter Saori Yoshida, who has won every major competition in the sport since 1998.
Women's freestyle wrestling 58 kg (August 17, 8am – 6pm)
Carlos Oquendo
Men's BMX
London 2012 bronze medallist
Oquendo suffered a terrible crash in the quarterfinals of the BMX World Championship in Medellín this year. However, he has shaken off any lasting damage and is now ready for the Games. He isn't be a favourite for gold as he hasn't challenged consistently in BMX over the past four years, but in London he showed he is capable of surpassing himself.
Men's BMX (August 17 – 19, 11am – 2pm)
---
---