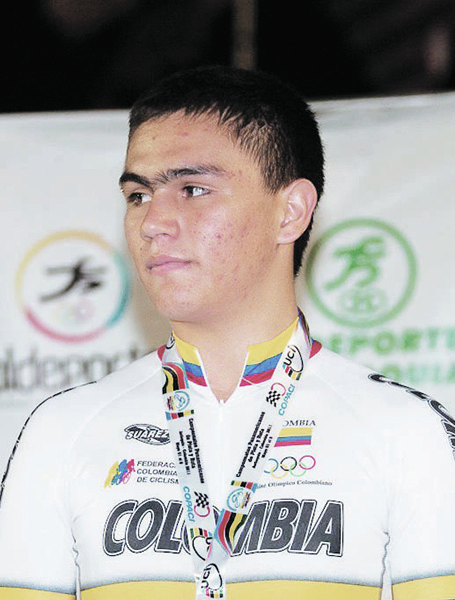 As Cali plays host to cyclists from around the world for the UCI World Cup, Fabián Puerta emerges as a new champion, with a keirin victory in his home country
---
Colombia has a new cycling star, who joins greats such as Nairo Quintana and Rigoberto Uran in road cycling as well as Mariana Pajon in BMX.
In the Velódromo Alcides Nieto Patiño in Cali, Fabián Puerta opened the UCI World Cup track cycling weekend with a victory in the keirin discipline.
The 22-year-old new kid at the top swept home with the title with a fabulous sprint, overtaking Australian Shane Perkins just before the finish line.
French favourite Francois Pervis saw his chances of victory disappear after a heavy crash in the qualification round left him with a fractured clavicle, bringing his competition to a premature end. Puerta profited by taking his first title on the World Cup circuit.
With this win the Antioquia-born track cyclist also secured the overall World Cup win in keirin following his podium spots in Guadalajara and London earlier this season.

In the successful event that attracted many cycling fans from all over the country, Colombia's women's delegation could only play a marginal role, with Juliana Gaviria's 11th place in keirin the most eye-catching result.
Fabián Puerta, on the other hand, added yet more silverware to his total at the end of the weekend with a victory in the overall World Cup sprint. In Cali the Colombian was overpowered in the sprint semi-final by Denis Dmitriev from Russia, before taking the bronze medal in a head-to-head with former world champion Maximilian Levy from Germany.
Puerta stated that he felt great obtaining his maiden World Cup victory, adding that he was looking forward to the world championships in Paris, where he said he will only be satisfied with a gold medal.
The world championships in Paris will take place between February 18-22.
---