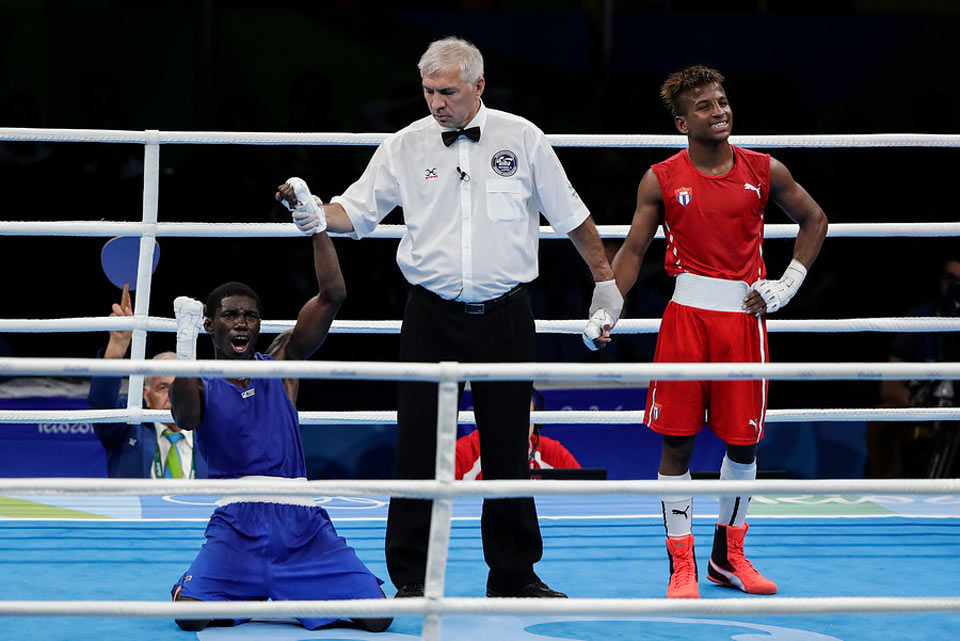 'The money I would have got for winning a bronze medal wouldn't have been enough for the house I want to buy my mum – that's why I'm going for gold.' In just one sentence Yuberjen Martínez won the nation's hearts during the Olympics in Rio de Janeiro.
---
For many, Yuberjen's silver medal at the Olympic Games in Rio de Janeiro was an unexpected success. The light flyweight category boxer made the semifinals with victories over home favourite Patrick Lourenco, Rogen Ladon from the Phillipines and Samuel Carmona from Spain. There he was up against World Champion Johanys Argilagos and, in a tight bout, the Colombian claimed historic success by making it to the Olympic boxing final. 
Name: Yuberjen Herney Martínez Rivas
Born: Turbo, Antioquia
Age: 26
Nationality: Colombian
Boxing: Light flyweight category
The 26-year-old boxer later claimed that his real motivation to win a gold medal was so that he could buy a house for his mum with the prize money. The cash for a bronze medal simply wasn't enough for what he had in mind. Hasanboy Dusmatov from Kazakhstan proved too strong in the final, but the house became a reality.
Yuberjen, silver medalist at the 2016 Olympics in Rio de Janeiro, was born in Turbo in 1991. Coming from a humble family he spent his early years working hard, "Before sports I had lots of different jobs, I worked on banana farms, at a bicycle repair shop and I became a mechanic there. It makes me more proud of what I achieved in sport," he said in an interview with Publimetro.
His endless energy as a child earned him the nickname 'El Tremendo Martínez', and at 14 years old he took his first steps as a boxer. His older brother Didier relates, "A friend invited him into the ring, but the first day it didn't go well for him. He received a lot of punches, he even said this was nothing for him. But in the next days he said he wasn't going to leave it like this, and went back into the ring and won!"
The boxer acknowledged that it took a while before his father, a pastor, accepted the career path he had chosen. "My dad didn't always support my career, because it is based on hitting other people. One day I explained to him that this was the sport, but he only half understood it. That's why I emphasised the story of David, a warrior of God and that was when my parents understood it."
His career continued, but it wasn't until 2013 that he became part of the national team. Cuban Rafael Iznaga, trainer of the Colombian boxing team, said "In 2012 Yuberjen finished third in the national championships in his category. We only called the number one and two to join us for this Olympic cycle, but one wasn't good enough and the other retired, so we decided to call him up."
People were actually surprised by the decision to include Yuberjen Martínez in the Olympic delegation, though it turned out to be a good one. Before Rio his biggest international success had been a bronze medal at the 2014 Central American and Caribbean Games in Veracruz, Mexico. In comparison to well known athletes, Yuberjen wasn't so much a footnote as a blank page until his first victory in Rio.
After the final, the Colombian minister of housing was quick to promise a house in Chigorodó for the Martínez family and seven months later that dream has almost come true as the house is almost ready.
True to his name, El Tremendo hasn't stayed still in the meantime. In Colombia's first participation at the World Series of Boxing in 2017, the light flyweight won all his games and moved up to the number one position on the World Ranking. For trainer Iznaga the young boxer's status is clear, "Yuberjen is our role model, he hasn't lost his humility, gives his everything in every training and will get far in his career. He is like Nairo in cycling, James in football, Caterine Ibargüen in athletics and Mariana Pajón in BMX, he has the best forecast."
Yuberjen explained he already had offers to start professional boxing – at the Olympic Games only amateur boxers are allowed to compete – but he has his mind set on Olympic gold in 2020, "I have had offers to jump to professional boxing, but I decided to wait for Tokyo 2020. As long as there is support in Colombia, I don't need to make the move to professionalism".
---