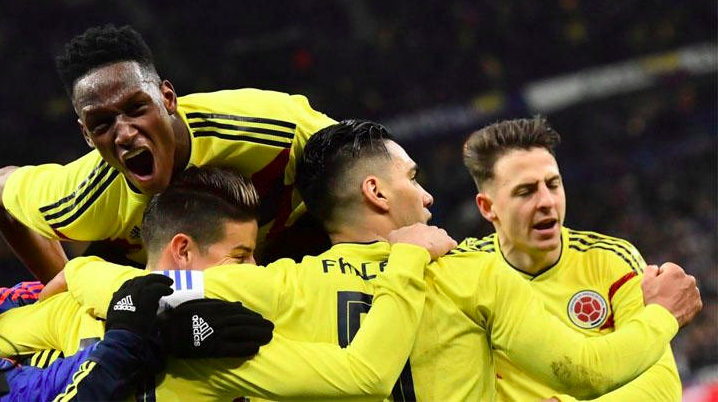 The floodgates kept budging with thump after thump from an attacking Colombia, but Australia miraculously staved off the goals to keep a 0-0 tie in tact during Tuesday's friendly.
From the neutral site of London's Craven Cottage, the stadium of Fulham FC, Colombia enjoyed another brilliant second half of football. Unlike their comeback win over France on Friday, however, the energized play yielded no results for Los Cafeteros.
The Colombian men's national team had a few bright moments in a frustrating first half beginning when James Rodríguez's long lob found the head of fellow midfielder Mateus Uribe – a revelation against France on Friday – but the ball went just outside of posts. The near miss was a sign of things to come in Tuesday's teeth-grinding friendly where Colombia did everything right except actually score.
Colombia's No. 10 came back in the 34th minute when defenseman Johan Mojica put the ball right in front of the net with a cross to James, who was again unable to convert on what looked like a sure goal.
The leading scorer in the 2014 World Cup has held in check again towards the end of the half despite a glaring opportunity from the top of the box. In the 42nd minute, Australia nearly responded with a goal as a cross skidded past keeper David Ospina before ending mercifully outside the right post.
After halftime, though, Colombia far outpaced the Aussies and laid on a constant barrage of attacks.
Miguel Borja nearly converted a bicycle kick in the opening minutes of the second half after coming in for captain Radamel Falcao. The play that would have led off sports highlight shows around the world was a good response for Borja after getting into a scuffle with defender Milos Degenek.
In the 54th, Borja booted in a cross from Carlos Bacca, but the offside flag was raised against the veteran forward, negating the admirable attempt from Borja.
Four more close calls came within a 10-minute span, including a 62nd-minute header try from James hit the Australian keeper's gloves.
Although Australia took a constant stream of punches, it finally responded with a haymaker try of its own. In the 68th, Massimo Luongo danced through Colombian defenders to put a strong shot on goal. Unfortunately for the Aussies, it ended in the breadbasket of Ospina.
Borja, who at some point must have angered the Football Gods, had another header incredibly hit the left post in the 80th minute.
If that somehow wasn't agonizing enough, the 25-year-old Borja missed a penalty kick five minutes later when the Aussie goalie guessed right by diving to his left. Though just a friendly, it was still a painful sequence to watch for the young striker who realistically could have had a hat-trick Tuesday.
Even if Colombia didn't end with the ideal result, coach José Pekerman got to see a plethora of new faces Tuesday like Mojica in for Frank Fabra at left back and Óscar Murillo in as central defenseman.
After not playing against France, forward Carlos Bacca was back in the starting lineup for Colombia. Having Bacca coming off the bench going forward gives Colombia a real goal-scoring threat and a reliable option who has started in World Cup games before. Inversely, it gives Pekerman a viable starter if right-winger Juan Cuadrado cannot return in time from a nagging ankle injury.
Colombia's last friendly before World Cup play begins will be at home on May 30 against Ukraine.