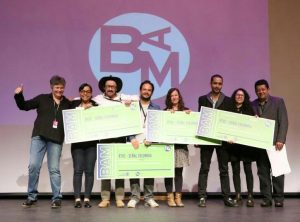 One of the directors of Retornan, a film about a displaced community, which found success at this year's BAM, tells Oli Pritchard 'all they want to do is return to their land'
---
BAM! With an impact as big as its name, the Bogotá Audiovisual Market exploded into Bogotá in July. The seventh version of the country's largest expo for the audiovisual and animation industry attracted a host of national and international buyers, with sections tailored to the needs of different sectors. One of the event's goals is to provide connections and assistance to emerging and low-profile artists in the field.
We spoke to some of the prizewinners after their documentary Retornan scooped an award in the 'Screenings – Works in Progress' category. The award is designed to assist them over the next few years and to support their work.
Directed by Sebastián Mejía and Alice Tabard, Sebastián tells us that "Retornan is an hour-long documentary about a community in Curumaní, Cesar, that wants to return to their territory". He continues, "the land was taken from them for palm oil, by a captain in the military."
"The story arc follows the efforts of the community to return to their land, rebuild their community, restore their food security, their customs, their social fabric."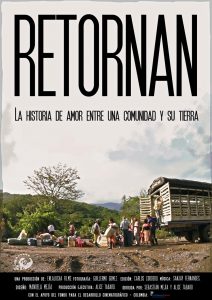 It's not easy to make films like this in Colombia, because of a combination of security problems, corruption and indifference. However, the BAM award means that at least financing is less of an issue. As Sebastián explains, "The awards we obtained at BAM were sponsored by Señal Colombia – three transmissions over two years and COP$29 million in broadcast and official promotion by Señal over that period of time."
"We also received an award for COP$12 million (in kind) for the final sound post production. The film has a stereo mix that has been made thanks to the talent and support of friends, but for an ideal sound, we needed this final mix. Now it will be in dolby 5.1, suitable for any cinema."
He describes the film process as "long and complicated. So far we have invested around COP$90 million, including COP$60 million we received from the Colombian Ministry of Culture Film Development Fund and USD$3,800 that we raised through Kickstarter in 2012."
However, Sebastián makes it clear that these production problems are as nothing compared to the reasons for making the film: "Above all, the most complicated thing is the situation of the community. They were evicted again while we were shooting the film and now, almost three years after the new eviction, they have been scattered, and most live in the same barrio that they had been in, when all they want to do is return to their land. Juan Manuel Fernández de Castro took that land and today it is full of weeds. It is useless to him, while people in the community are hungry and without a fixed place to live".
---